Snowstorm cost Plainfield $46K for contractors, chemicals
Brock A. Stein | 3/3/2015, 10:18 p.m.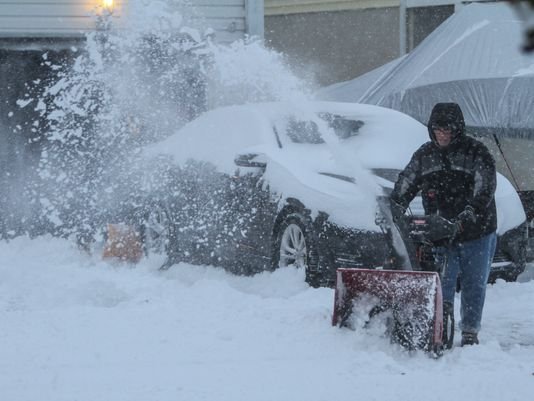 Plainfield spent more than $41,000 for additional contractors to help public works crews plow streets during last month's storm that dumped 14 inches of snow on the village.
The extra manpower was needed as public works crews struggled to clear roads during the Jan. 31-Feb. 1 snowfall and were unable to get to many side streets and cul-de-sacs until the following week due to the volume of snow and equipment failures.
In total, the village applied about 700 tons of salt to roadways during the storm and called in four additional contractors, some with front-end loaders, to remove snow from cul-de-sacs.
Public Works Director Allen Persons said the village also depleted its supply of de-icing chemicals—a combination of calcium chloride and beet juice—prompting an emergency purchase of just under 5,000 gallons at a cost of $5,000.
In other business, the village approved a lease with Tri-River Police Training Region Inc., a law enforcement training organization currently based in Crest Hill.
The organization will move into space in the Plainfield Law Enforcement Center, 14300 S. Coil Plus Drive, that was previously occupied by Wescom, a 911 dispatch center for 19 western Will County police and fire departments.
Plainfield Police Chief John Konopek told trustees the organization conducts law enforcement training for police organizations throughout Will, Kendall, Grundy and Kankakee counties.
The move will require "minimal modifications" of the space and the new tenants are paying $2,000 per month for rent. The five-year lease agreement runs through March 2020.