Joliet Central announces this year's Mr. and Ms. J
3/5/2015, 10:33 p.m.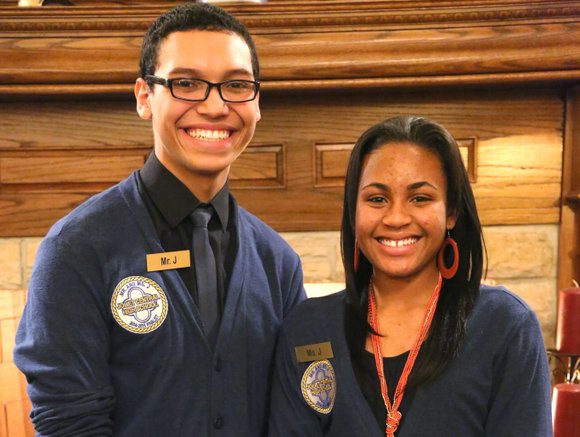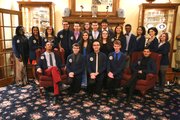 Joliet Township High School District 204 issued this news release:
Joliet Central High School seniors Daniel Valdovinos and Anjae Holder have been named Mr. and Ms. J for the 2014-2015 school year.
Mr. and Ms. J, the tradition of selecting two high school seniors who best represent the ideal students of Joliet Central, began in 1958.
"The selection of Mr. and Ms. J starts with seniors who have achieved a cumulative GPA of 3.5 or above," said sponsor Linda Bowers. "The next step in the selection process is the faculty selection of 10 Mr. J finalists and 10 Ms. J finalists from the list using the criteria of appearance and poise, personality, activities, and community service."
Once the finalists have been selected, they are interviewed by a panel of teachers and community members who judge the students based upon set criteria.
This year, the tradition of Mr. and Ms. J has expanded to include community outreach. "It was a special year for Mr. and Ms. J.," said Director of Community Relations Kristine Schlismann. "Thanks to Arlene Albert, our Board of Education Vice President; Dr. Rae and Ms. Bowers, this year we made a change. Our Mr. and Ms. J finalists now serve as ambassadors to the community, sharing their high school experiences at community and school events."
So far Mr. and Ms. J finalist have presented the topic of "staying involved in high school" to eighth graders and parents at Elwood School and to freshmen students at Mt. Carmel Church. They distributed Annual reports and answered questions from students and parents at incoming freshman registration; and they publicly spoke about their high school experience at a Board of Education meeting to honor the service of board members. "It has been amazing," said Schlismann. "Our students are articulate, passionate and they have taken advantage of all the opportunities offered to them at Central. They have done a great job serving as ambassadors to the community."
Mr. J, Daniel Valdovinos, is no stranger to leadership roles and service as National Honor Society President, Human Relations Club President, and JROTC Executive Officer in charge of staff tasking and teams. He attended a leadership conference in Pennsylvania with five other Joliet Central students in November of 2013. He ambitiously works towards his goal of studying criminal justice, language and psychology. Valdovinos has been accepted to Norwich University with a merit scholarship.
Valdovinos has completed over 300 hours of community service, donating his time teaching 11 Junior Achievement classes at five different elementary schools, packaging food for the Feed My Starving Children Foundation, and collecting and packaging toys for low income families with Toys for Tots. He participated in the Martin Luther King Day of Service for three years and is in the process of organizing a Relay for Life event.
Ms. J, Anjae Holder, works tirelessly as she participates in sports, band, and various clubs while maintaining top grades. She participates in extracurricular activities including cheerleading, track and field, and marching band. She is in National Honors Society and serves as the Historian of Mu Alpha Theta. She was selected as the Honor Guide for the Class of 2014 and has received academic recognition such as Illinois State Scholar and ACT Pacesetter.
Recipient of the President's Volunteer Service Award, Holder has volunteered her time at the YMCA daycare, HOSA Club Walk for Cystic Fibrosis, Soul Food Luncheon and the Alpha Kappa Alpha Sorority, INC. T-Rose Clothing Drive.
"Each and every one of our Mr. and Ms. J Finalists have demonstrated strong character and have done an outstanding job representing Joliet Central High School," said Bowers.
First runner up for Mr. J is Jarais Musgrove and second runner up is Andrew Matichak. Mr. J finalists include Antonio Delira, Freddy Hernandez, Thomas Roberts, Jason Smith, Nicholas Varman, Aaron Wallace, and Nicholas Weisfus. First runner up for Ms. J is Rene Smith and second runner up is Alyssa Mikula. Ms. J finalists include Kira Cruickshank, Katelyn Farrell, Kayli Holden, Krynn Paluga, Jihan Salameh, Milena Singletary, and Justice Weston.