Noodles & Co., Mattress Firm coming to Shorewood, mayor says
Brock A. Stein | 3/11/2015, 1:40 p.m.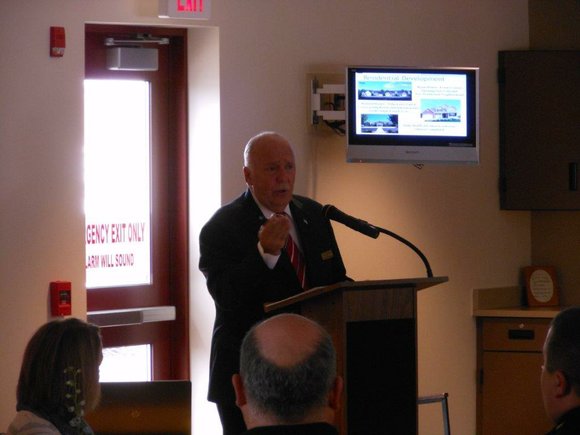 With 35 new businesses opening in 2014, new home construction on the upswing and new stores to occupy a premium spot on Route 59, things are looking up in the village of Shorewood.
That was the message Shorewood Mayor Rick Chapman gave at his state of the village address to an audience of 75 Shorewood Chamber of Commerce members at the Troy Township Office Tuesday afternoon.
He also announced that a Noodles & Co. restaurant and Mattress Firm store will open on the site of the former Dominick's Gas Station near the corner of Black Road and Route 59.
Chapman's address hit the highlights of 2014 and gave a preview of what residents could expect in the coming year.
Those new businesses that continue to locate in the village are the economic engine that keeps services to residents going, Chapman said.
Sales tax revenue accounts for about 50 percent of the village's $11.4 million revenue stream, and despite the prevailing belief, the village only takes about four cents for every dollar of a resident's property tax bills each year, he said.
"The village doesn't live on property tax," Chapman told audience members.
Thirty-five new businesses opened in the village last year, including a Mariano's supermarket that took the place of the shuttered Dominick's.
The new restaurant and mattress store near that site together will generate about $2.5 million in sales, he said, another boost to the village's sales tax base.
"I quickly convert those millions in sales to ten thousand," he joked.
Other new businesses expected to open in 2015 include a Midwest Express walk in medical clinic, a Bob's Furniture in the Heartland Center near Frontage Road, and redevelopment of Anderson's corner/Crossroads Plaza at the intersection of Route's 52 and 59 that could include a new restaurant.
Chapman said the village hired a retail development firm on a 1-year contract to analyze the marketplace and help with continued economic development.
So far, market research is showing the village is well situated to attract consumers from smaller towns to the west and the surrounding area. He points to the two large grocers, a Target store, and two car dealerships as examples of large business that attract out-of-village customers.
"Shorewood is in a location that says 'shop here,'" he said. "We're sitting on a gold mine."
New home construction continues to improve from a low of 40 home starts in 2008 to nearly 150 last year. The village expects to see 86 new homes begin construction in the Edgewater subdivision this year plus new homes in the Town Center development near village hall.

Chapman said the village will continue to pursue letters of credit from developers that went bankrupt to complete street and infrastructure in those incomplete subdivisions.
He also outlined the village's need to secure Lake Michigan water supply explaining that the cost to continue drilling deeper wells is unsustainable. The village owns one of the last remaining Lake Michigan water allocation permits and hopes to proceed with a pipeline to the big lake if voters approve home rule powers in the April 7 election.

He said a Lake Michigan water supply is the most sustainable option for the village's future water needs.
"The most cost effective and sustainable source is Lake Michigan water," he said.