Dist. 202 hikes cost of school lunches, keeps other fees flat
3/17/2015, 12:58 p.m.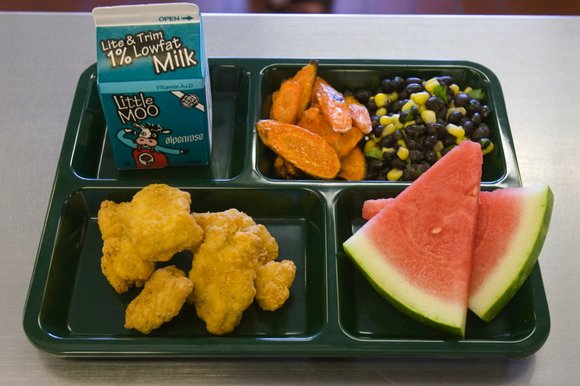 District 202 provided this news release:
Most of District 202's school fees will not increase next year. However, the cost of school lunch will go up by five cents.
The District 202 Board of Education at its March 16 regular meeting approved school fees for the 2015-16 school year, which include minimal increases to a handful of fees, including lunch.
Based on projected enrollments, the new fees should produce about $90,000 in new revenue if it's all collected. However, District 202 Finance Director Rick Engstrom said the district usually gets about two-thirds of what is owed, which would be about $60,000.
All preschool fees will remain the same as this year.
Fees for kindergarten, first and second grades will go up by $5 to $130; fees for third and fifth grades will increase from $128 to $130; and fourth grade fees will drop by $2, to $130.
The changes were made with an eye on fee equity, so that all grade levels were paying the same amount, Engstrom said.
As well, the new elementary fee structure will absorb the cost of the long-standing fifth-grade field trip to the Robert Crowne Center, taken as part of their health curriculum.
Previously students paid the $15 field trip fee. However, changing demographics meant that some students couldn't pay the fee, or schools discontinued the program or utilized an "in-house" version of the program that wasn't as effective.
Elementary breakfast will now cost $1.55 and lunch will cost $2.45, both up five cents from this year.
Middle school sixth grade fees remain at $160, while seventh and eighth grade fees will now rise to $160, up from $156. All other middle school fees will not change next year.
Middle school breakfast will cost $1.55, and lunch will cost $2.60
Likewise, the textbook and registration fee for traditional high school will increase by $6, from $202 to $208, but all other high school fees will not change.
The increase will help pay for a new "Naviance" software program which will help students plan for college, search and apply for scholarships, send electronic transcripts, track alumni and other post-high school functions.
High School breakfast will increase to $1.65 and lunch will cost $2.70.
The Plainfield Academy middle school and middle school Therapeutic Academic Program textbook fees will increase from $150 to $160.
The Academy high school, Turnabout program and high school Therapeutic Academic Program textbook fees will rise to $208 from $202. The P-STEP program textbook fee will be $208, up from $172.
All summer school fees will not change next year.