First Times Weekly Joliet candidate forum Wednesday night
3/17/2015, 9:07 a.m.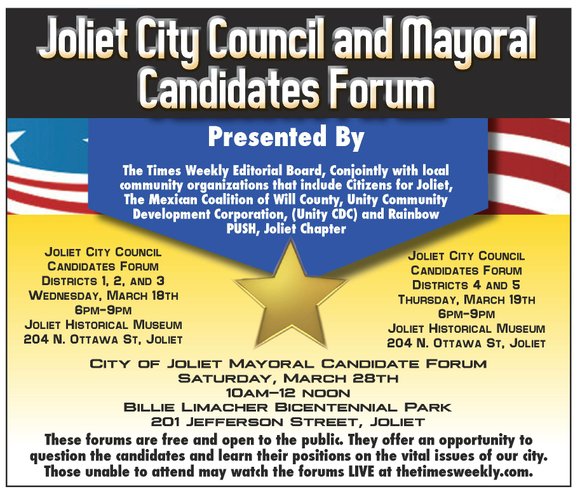 Joliet City Council and mayoral candidates will participate in community forums March 18, 19 and 28 sponsored by The Times Weekly Editorial Board in partnership with several community organizations, including Joliet Concerned Citizens, Mexican Coalition of Will County, Rainbow PUSH and Unity Community Development Corp.
Council candidates for districts 1, 2 and 3 will take the stage at 6 p.m. March 18 at the Joliet Area Historical Museum, 204 N. Ottawa St.
District 1 candidates are Larry Hug (incumbent) and Terry Cottrell, District 2 candidates are Brett Gould and Patrick Mudron, and District 3 candidates are John Gerl (incumbent) and Ray Polikaitis.
The forum for council candidates from districts 4 and 5 will be held at 6 p.m. March 19 at the Joliet Area Historical Museum.
District 4 candidates are Bettye Gavin (appointed incumbent), James Foster, Phillip Petrakos and Angel Guzman and District 5 candidates are Terry Morris (incumbent) and Leonard Thompson Jr.
The Joliet mayoral forum takes place at 10 a.m. March 28 at Billie Limacher Bicentennial Park Theatre, 201 Jefferson St. Mayoral candidates are Tom Giarrante (incumbent), Bob O'Dekirk and Andy Mihelich.
All three programs are open to the public and will be steamed live at thetimesweekly.com. They will also be taped and will remain posted on The Times Weekly web site.
Candidates will be asked questions about topics affecting the city, some of which will come from residents. Contenders for council seats will also be questioned on specific issues impacting their districts.
"These forums are a way for all of the community to get a better understanding of who the candidates are and their vision for the future of our community so they can make an informed decision when they vote," said Pastor Calvin Quarles, president of The Times Weekly editorial board and senior pastor of The Church at Bolingbrook and Joliet.
"We want to make sure people have information they need so they can make an informed decision."
Each forum will be a structured program in which candidates are asked questions selected in advance by The Times Weekly editorial board and the community groups.
Residents attending the event will have a chance to pose their own questions to the office-seekers at the end. Questions may also be submitted in advance of the forums by posting them on The Times Weekly Facebook page, www.facebook.com/TheTimesWeekly.
"This election is very important and it has generated a lot of interest," Quarles said. "A record number of people may come out to vote. The outcome really represents a turning point for our city."
Early voting at the Will County Clerk's Office, 302 N. Chicago St., Joliet, begins March 23 and ends April 4. Election day is April 7.