Deadline Thursday to buy tix to BHS basketball semi-finals
3/18/2015, 2:33 p.m.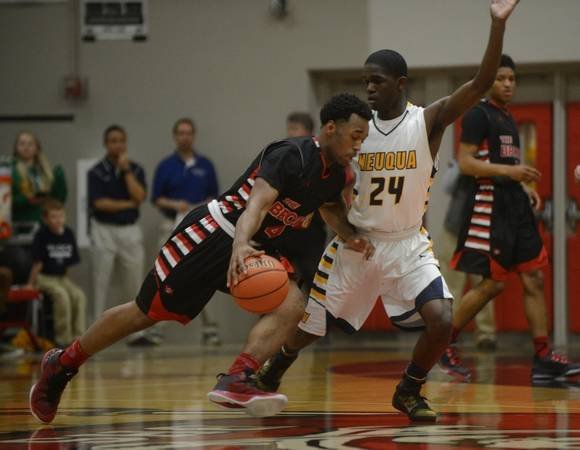 Valley View School District 365U provided this news release:
Students and the general public have until 10 a.m. tomorrow to purchase advance tickets for Bolingbrook High School's IHSA boys basketball Class 4A state semi-final matchup with Stevenson Friday night at Carver Arena in Peoria.
Tickets, at $8.50 each for the upper bowl and $10.50 each for the lower bowl per session, are available until 3 p.m. today and from 7 to 10 a.m. in the BHS Athletics & Activities Office (E120). Tickets are also expected to be available at the door in Peoria, but there is no guarantee that you will be sitting with Bolingbrook fans in Carver Arena during the Tournament.
The first 80 BHS students to pick up and return a permission form to ride the student fan buses Friday will receive a free ticket and free same-day transportation to and from the game courtesy of the BHS Athletic Booster Club. Permission forms must be picked up in E120 today (Wednesday) and returned by 10 a.m. Thursday. The buses will depart Bolingbrook High School at 3 p.m. Friday and will return to BHS at approximately 11 p.m.
If the Raiders win Friday, they will play for the state championship at 8:15 p.m. Saturday against the winner of Friday's game between Geneva and Normal Community. If they lose Friday, they will play for third place at 6:30 p.m. Saturday.
Regardless of how they finish downstate, a rally honoring the team's achievements will take place at 2 p.m. Sunday at Bolingbrook High School.
Team members are Broderic Thomas, Devon Sams, Prentiss Nixon, Julian Torres, Dimitri Akenten, Lance Phillips, Darick Anderson, Zach Grady, Ajay Tidwell, Nate Webb, Clifton Smith, Antowine Locke, Nana Akenton, Frasean Isom, Jabari Mangrum and Brandon Lawani. Head coach is Rob Brost, assisted by Paul Gammicchia, Dom Tapia, Bear Timmer, Tony Smith and Ryan Altenburg. Rob Rose is the BHS Athletic Director.