City contest under way for biggest hackberry tree in Joliet
3/20/2015, 12:12 p.m.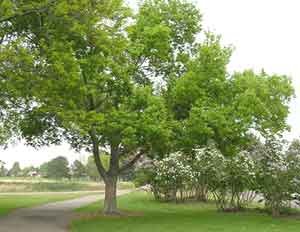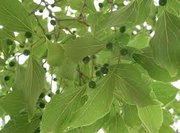 The city of Joliet provided this news release:
The City of Joliet's Tree Advisory Board is again sponsoring a "Big Tree Contest" as part of its 2015 Arbor Day Celebration.
This year's goal is to identify the largest hackberry tree within Joliet's city limits.

Sometimes called a sugarberry tree, hackberries have oval shaped toothed leaves and "warty" bark. Their round 1/3-inch diameter fruit ripens in the fall and is favored by birds. Trees grow up to 80 feet tall and can have a 5-foot diameter trunk. Hackberries are drought tolerant and are often planted as street trees.

The contest is open to all residents of Joliet. The winning tree will be determined by measuring the circumference (distance around the tree 4.5 feet above the ground), the height, and the spread of the crown.

City Forester Jim Teiber will take official measurements to verify the winner. The tree may be on public or private property. If nominating a tree that is on someone else's private property, please ask permission to nominate.
Nominations will be accepted until Noon, Wednesday, April 15, 2015, and may be dropped off at City Hall at 150 W. Jefferson Street, or mailed to City of Joliet, Big Tree Contest/Forestry Division, 1203 Cedarwood Drive, Joliet, IL 60435.

Nomination forms are available at City Hal and at both Joliet Public Libraries, and will be posted online at www.cityofjoliet.info. For more information, please call 815-791-8216.
The winner will receive a framed photo of their "Big Tree" with acknowledgement of their honor. The winner will be announced on, or before, Arbor Day, Friday, April 24.
To view the Illinois Big Tree Register, which lists champion trees in the state, visit the Illinois Big Tree Register's Web site, http://web.extension.uiuc.edu/forestry/il_big_tree.html.
CITY OF JOLIET
BIG HACKBERRY TREE CONTEST
Common Name of Tree Hackberry
Scientific Name Celtis occidentalis
Nominated by Phone Number
Address_ E-mail Address
Nominator (if not owner of private property) should ask permission to nominate.
Location of Tree:
Tree Measurements: (measure circumference, estimate ht. and spread)
Circumference (4.5 feet above ground)__Height
Crown Spread: _