Rauner urges Will County to embrace 'empowerment' concept
Brock A. Stein | 3/27/2015, 6:31 p.m.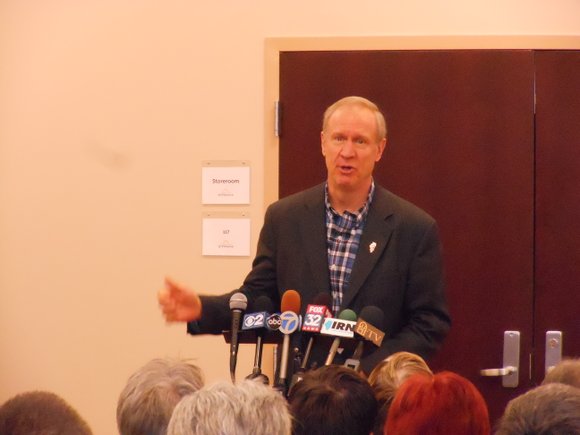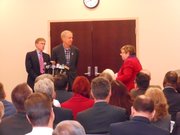 Gov. Bruce Rauner made an appearance in Joliet Friday morning to tout his plan to improve state finances and create a business environment that will attract companies to the state.
Rauner's speech, focused on his "Turnaround Agenda," was presented to an audience at the University of St. Francis' Robert W. Plaster Free Enterprise Center, 16 W. Van Buren St.
Much of the turnaround will be accomplished through empowering voters, said Rauner, and creating a climate of pro-job growth.
The pro-business message started with an introduction from John Greuling, president of the Will County Center for Economic Development, who called the governor "The CEO of the State of Illinois."
Rauner's plan, he said, will focus on letting residents make decisions at the local government level, reversing the typical roles of elected officials and voters.
"The folks in the government work for you, you don't work for them," Rauner said.
"They don't get that."
That empowerment he said would include residents making decisions on everything from the role of unionized workforce in government jobs to unionized teachers in their schools. Rauner rejected the idea that he was anti-union and said he didn't support Illinois becoming a right-to-work state, though he did say the decision to require unionization should rest with local voters.
"I want local control of the issue," he said, noting that the trend among states is going toward right-to-work.
"Iowa has been right-to-work for years, and they have one of the lowest unemployment rates in America," Rauner said. (Iowa's unemployment rate was ranked No. 11 in the country at 4.1 percent in February 2015, according to the U.S. Bureau of Labor Statistics, compared to Illinois' rate of 6 percent, placing it at No. 35.)
Counties that choose to become right-to-work or "employment empowerment zones" will put those areas on "the list" of potential employers, he said.
"And there are thousands of employers, thousands of job creators who won't even look at a closed-shop state," he said.
With a few of those empowerment zones, Rauner said he would be able to go to other states to attract employers.
"And if Will County is employment flexible, you watch, wow, we're going to kick some tails here," he said.
In addition to empowerment, Rauner said the state's fiscal ship will be righted through a "pro-job growth" agenda that will create an environment that will attract companies back to the state. That will require input from both sides of the aisle in Springfield.
In the coming months, Rauner said he needs the General Assembly "to take some tough votes." He commended the general assembly for its recent vote to pass a short-term budget fix but said more needs to be done, calling for a bipartisan fix to the problem that both political factions had a hand in creating.
Contact Brock A. Stein at Brocknewstips@gmail.com or on Twitter at @BrockAStein.