Chicago Blues Festival 2015 lineup
3/31/2015, 10:26 p.m.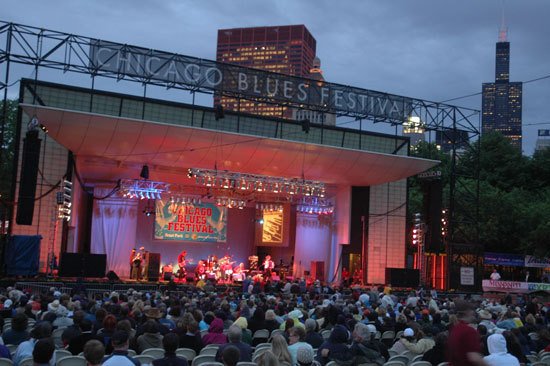 The three-day event will also mark the centennial of blues pioneers
The Department of Cultural Affairs and Special Events (DCASE) announced the headliners for the 32nd Annual Chicago Blues Festival. Buddy Guy, Taj Mahal Trio, Toronzo Cannon, Syl Johnson, Clarence Carter, Zora Young, Big Bill Morganfield, Mud Morganfield, Bobby Dixon, Alex Dixon, Billy Branch and others will perform at the Petrillo Music Shell, June 12 – 14, in Grant Park. The three-day festival, presented by the City of Chicago will also feature tributes and a special centennial concert honoring Muddy Waters and Willie Dixon on Sunday, June 14.
The Chicago Blues Festival is FREE admission and open from 11 a.m. to 9:30 p.m. daily. Performances at the Petrillo Music Shell will feature headliners from 6 p.m. to 9:30 p.m. on Friday, June 12, continuing on Saturday, June 13, and Sunday, June 14, from 5 p.m. to 9:30 p.m.
Friday, June 12
Chicago soul man Syl Johnson will headline the Petrillo stage on Friday, June 12, at 8:25 p.m. Having lived next door to blues guitarist Magic Slim in the 1950s, Johnson performed with Magic, Billy Boy Arnold, Junior Wells, Howlin' Wolf and Jimmy Reed before he made his solo debut in 1959. He has forged a career in both blues and soul producing hits like "Different Strokes," "Is it Because I'm Black" and "Take me to the River." In recent years Johnson has performed with his very talented daughter Syleena Johnson, as well as his also famous brothers, blues guitarist and singer Jimmy Johnson and bassist Mack Thompson.
The evening of blues and soul at the Petrillo stage begins at 6 p.m. with Chicago blues artist Zora Young. Young is a powerhouse vocalist with a three-decade career, including collaborations with Willie Dixon and Sunnyland Slim. Young's soul-drenched vocals make her one of the genre's best female artists.
The evening continues at 7:05 p.m. with Clarence Carter, a singer-songwriter sure to bring fans to their feet with his hits "Strokin,'" "Slip Away" and "Back Door Santa." An Alabama native, Carter was blind at birth and immediately gravitated to music, teaching himself to play guitar by listening to John Lee Hooker, Lightnin' Hopkins and Jimmy Reed – developing a deep base of blues and southern soul.
Saturday, June 13
Chicago's own Buddy Guy will bring his legendary rhythm and blues to the Petrillo stage on Saturday, June 13, at 8:05 p.m. Recently honored with a Grammy® Lifetime Achievement Award and saluted at the 2012 Kennedy Center Honors as an invaluable American treasure, Buddy Guy is one of the most talented blues guitarist of his generation. Eric Clapton once said of Buddy Guy, "by far without a doubt the best guitar player alive." As a true blues pioneer, he landed critical and popular success in the 1990s with three Grammy®-winning albums: 1991's Damn Right, I've Got the Blues, 1993's Feelin' like Rain and 1994's Slippin' It.
The Petrillo stage will kick off on Saturday with Chicago blues guitarist, Toronzo Cannon at 5:30 p.m. Growing up in the shadows of the legendary blues club, Theresa's Lounge, Cannon was influenced by the raw soulful sounds of Junior Wells, Muddy Waters and Buddy Guy.