Chicago Blues Festival 2015 lineup
3/31/2015, 10:26 p.m.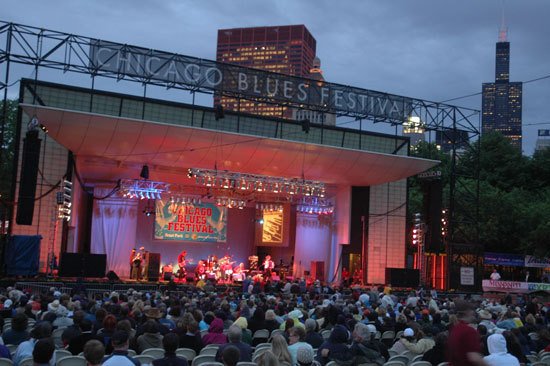 The Taj Mahal Trio takes the stage at 6:30 p.m. In 2014, the two-time Grammy®-winning singer, songwriter, film composure, guitarist and multi-instrumentalist received the Life Achievement for Performance Award at the 13th Annual Americana Honors and Awards in Nashville. Taj Mahal's "global fusion" approach to the blues has garnered him awards and fans all over the world.
Sunday, June 14
The festival finale at the Petrillo Music Shell on Sunday, June 14, is a talent-packed lineup of artists honoring Muddy Waters and Willie Dixon. Dixon's music and lyrics and Waters' electric guitar are the nexus that transformed the Delta blues into the Chicago sound. Together they have influenced generations of musicians like the Rolling Stones, Eric Clapton, Led Zeppelin, Buddy Guy, Chuck Berry and countless other blues, jazz and rock-n-roll artists.
Billy Branch and the Sons of Blues with special guest Eddy "The Chief" Clearwater will kick-off the Petrillo stage at 5 p.m. Branch, a Willie Dixon protegé, is an award-winning artist who honed his harmonica skills with harp masters Big Walter Horton, James Cotton and Carey Bell.
The Willie Dixon centennial tribute begins at 6:30 p.m. featuring Billy Branch, Keshia Dixon, Tomiko Dixon, Freddie Dixon, Alex Dixon, Bobby Dixon, Cash McCall, Sugar Blue, John Watkins and Andrew Blaze Thomas. Dixon penned countless blues classics like "Wang Dang Doodle," a song made famous by blues queen Koko Taylor and "I'm Your Hoochie Coochie Man" for Muddy Waters.


At 8:15 p.m., Muddy Waters, the man who electrified the blues will be celebrated with a jam session by former band members, family and friends. The tribute will include Bob Margolin, Mud Morganfield, Big Bill Morganfield, John Primer, Rick Kreher, Bob Stroger, Kenny "Beedy Eyes" Smith, E.G. McDaniel, Paul Oscher, Jerry Portnoy and Barrelhouse Chuck.
Day Stages
The popular day stages contribute to the festival's reputation as an internationally acclaimed event. Each stage features local and national blues musicians celebrating the genre's rich tradition and heritage. Stages and performance times are: Bud Light Crossroads stage, 11:15 a.m. – 5:30 p.m.; the Jackson Rhythm and Blues stage, 11:30 a.m. – 5:30 p.m. and the Pepsi Front Porch, noon – 5:30 p.m.
The Bud Light Crossroads Stage will feature a line-up of top blues artists beginning Friday, June 12, with two incredible blues vocalists, Mary Lane at 12:45 p.m. and Nellie "Tiger" Travis. On Saturday, June 13, fans will get a look at the next generation of blues stars with a high energy performance by Jamiah on Fire and the Red Machine at 11:15 a.m., this young band will set the volume for the day at "11." Jarekus Singleton will take the stage at 2:30 p.m. and wow the crowd with his "funk-seasoned" guitar rhythms. Highlights during the day on Sunday, June 14, include a fixture on in Chicago's blues scene, Chick Rodgers at 11:15 a.m. and singer-songwriter John Nemeth will close out the Bud Light Crossroads stage at 4:15 p.m. with his electric blues and soul harmonica.
Fans will get a taste of the delta blues with a Chicago twist at the Jackson Rhythm and Blues Stage. Each day will start with a panel discussion at 11:30 a.m. followed by performances. On Friday, June 12, Jackson resident, singer, songwriter and harmonica man Scott Albert Jones will kick off the music at 1 p.m. Following the "Windy City" blues sounds of John Primer at 4 p.m., the day closes at 5:30 p.m. with a jam session featuring Grammy® award-winning drummer Kenny "Beedy Eyes" Smith.