Coming of Age tale brings bullying issue to forefront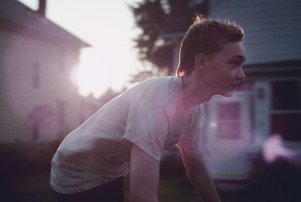 "King Jack," the coming-of-age tale film by first-time feature film director Felix
Thompson, brings the sensitive issue of teen bullying a sensitive, personalized
forum. It was one of two films to receive the top audience award at the 2015 Tribeca
Film Festival.
Jack is growing up in a small town at the awkward age of 15. With an absentee
father and a harried mother, Jack left to fend for himself in an increasingly
overwhelming world. The fact that he is almost daily haunted and taunted by the
town bully doesn't make live any easier for him. Adding insult to injury, he not
only has to endure the prolonged avenue of mandatory summer school, but he is also
suddenly charged with the protective care of a younger nephew whose mother is
rendered missing in action due to mental illness. With bullies breathing down his
back and an increasingly diminishing supply of self esteem, Jack is on the brink of
emotional implosion.
Just as he creates a circumstance that threatens to push him over the precipice, he
finds salvation in the most unexpected place. The turn of events and a surprisingly
intuitive act on the part of his peers, demonstrates how the milk of human kindness
can be a balm to even the most damaged ego Charlie Plummer (Boardwalk Empire) stars
as the hardscrabble teen in a compelling performance.
The other top audience winner was director Patrick O'Brien's "Transfatty Lives."
Best known as his alter-ego DJ Transfatty, this former student of New York's School
of Visual Arts decided to turn the camera on himself to recount his heroic life's
journey after being diagnosed with ALS (Lou Gehrig's disease) in 2005. The result is
a highly personal, feature length documentary on how a physical death sentence can
be transformed into personal triumph of wit and will. More than a decade in the
making, this documentary is a testament to the ability of the human spirit to
triumph over the most dire odds.
.
.Each winner will get $25,000 in cash and was also screened on the closing day of
the festival.
Also screening that day were the audience award runners-up: "Sleeping With Other
People," a romantic comedy directed by Leslye Headland, and the documentary "Song of
Lahore," from Andy Schocken and Sharmeen Obaid-Chinoy.