Downtown Joliet transportation center street closings start Monday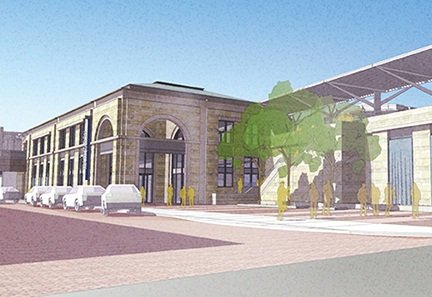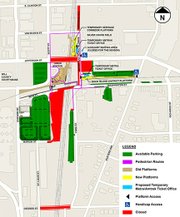 Attention, Joliet train commuters, pedestrians and drivers: Downtown's going to be a tangle of closed streets, sidewalks and parking lots this spring and summer thanks to the ongoing Joliet Gateway Center construction.
And it all starts Monday.
The project is being overseen by Lisa Dorothy, a civil engineer for the city of Joliet, who walked the Joliet City Council through the closures at its Tuesday night meeting and provided an update on where things stand with the building of a new train station, bus station, parking lots and train platforms.
The most important thing right now is to get the word out about the timetable for blocked streets and sidewalks, Dorothy said. She's posted everything on the city's web site, http://www.visitjoliet.org/, and will have signs placed all over downtown to help people get around the closed areas.
"The impact to commuters and residents is going to be significant," she said, "and, unfortunately, unavoidable."
Here is a schedule of what will be closed when:
May 7-22: Osgood Street and sidewalks closed between St. Louis Street and York Street.
May 7-22: New Street pedestrian tunnel closed.
May 9–20: Marion Street access and New Street parking lot closed.
May 11-June 11: Mayor Art Schultz Drive closed between Washington Street and Jefferson Street and between East Clinton Street and Van Buren Street. (Northbound lane and east sidewalk of Mayor Art Schultz Drive from Washington Street to the alley will remain open to access temporary Metra ticket office.)
May 11: Parking lot at corner of Jefferson Street and Mayor Art Schultz Drive permanently closed.
June 4-12: Osgood Street and sidewalks closed between St. Louis Street and York Street
June 4-12: New Street pedestrian tunnel closed.
June 4-19: Jefferson Street and sidewalks closed between Scott Street and Mayor Art Schultz Drive. (Pedestrians can use the Van Buren Street sidewalk at any time or the existing Union Station pedestrian tunnel during normal business hours of 4:30 a.m. to 9 p.m. Monday through Friday.)
Construction of the Joliet Gateway Center, also known as the city's multimodal transportation center, is about at the midway point.
So far, they've completed a new 400-space parking lot at Chicago and Marion streets, built a new platform for Metra Rock Island Line commuters, erected a temporary platform for Metra Heritage Corridor and Amtrak users, set up a temporary ticket office on Jefferson Street and closed Union Station for use as a train station.
This summer, work will focus on improvements to the railroad lines, bridges and tunnels, a time-consuming task because construction cannot be done when trains are coming through and extra precautions must be put in place for the safety of workers, Dorothy said.
There will be weekends when no trains will be allowed to use the tracks so that workers can have an uninterrupted 48-period to work, she said.
Construction on the new train station will not begin until after contracts are awarded July 7, and the bus station work will not start until sometime in September, she said.
Those two jobs will create another round of street and parking lot closures, she said.
"My goal is to have the train station up and running before the winter of 2016," Dorothy said. "We'd really like to avoid a third year (using) the temporary platform."
Her other task is to try to keep a lid on expenses and find ways to save money. According to the latest numbers, the $42 million project had climbed to $46 million as March. That number was lower than it could have been had Dorothy taken made cost-saving measures.
She was able to save more than $1 million by reducing the size of the bus station by about a thousand square feet and changing it into a rectangular-shaped building. And another $500,000 to $600,000 was saved by keeping the former track control building in the plan, she said. Instead of demolishing it, it will be converted into a museum.
Contact Karen Sorensen at Karen@TheTimesWeekly.com.