Joliet OKs Fresh Thyme liquor license, fast-food drive-through windows, more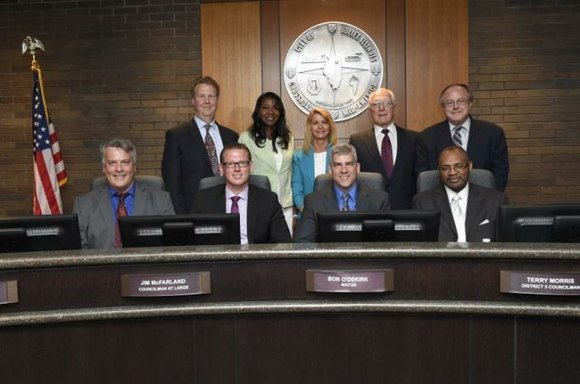 Here's a roundup of news from the Joliet City Council meeting Tuesday night:
Liquor license award for Fresh Thyme store
Fresh Thyme Farmers Market, being built on the site of the former Kmart store at Plainfield Road and Hennepin Drive, was awarded a liquor license to sell beer and wine.
Remodeling work in under way on the 2700 Plainfield Road business, which is sharing the old Kmart location with the recently opened Sports Authority store.
A tentative opening date of June 10 has been set. The store is expected to employ about 90 people.
Drive-through windows OK'd for fast-food restaurants
Windows for drive-through customers were approved for a Hardee's restaurant to be built on Jefferson Street near Stryker Avenue and a Potbelly Sandwich Shop on Plainfield Road near Garden Street.
Both businesses are going on sites already zoned for fast-food stores, and required only the drive-through window OK before construction can start.
City officials said they anticipate the Hardee's to be open by late summer/early fall and the Potbelly to be finished sometime later than that because of work that needs to be done on the site.
It will be the city's second Potbelly to open in the last year. Hardee's previously had stores in Joliet but closed all of them in the late 1990s.
Supervisor hired for downtown cleaning crew
A Public Works Department employee will be hired to oversee two Joliet Job Corps students who are to clean, maintain and improve the appearance of downtown Joliet this summer.
The city has worked out an agreement with the federal job program to provide the students' labor free of charge in exchange for experience in the profession they are studying. Joliet will provide the oversight and the City Center Partnership will provide cleaning supplies.
Although the concept is a pilot program, it could be enacted on a permanent basis if it proves successful, officials said.
The person being hired to oversee the students' work will ultimately replace a public works employee who is retiring later this year so there will be only a small expense for Joliet, City Manager Jim Hock said.
Bidding changes to benefit local companies adopted
Businesses located in Will, Kendall and Grundy counties will have a chance to land city of Joliet contracts if their bids are within 2 percent or less of the low bid, up to a maximum of $20,000, under an ordinance change approved Tuesday.
The company will have three days to agree to match the low bid in order to win the contract.
All local companies wanting to participate will need to complete pre-qualification forms verifying they have had a physical presence in one of the three counties for a minimum of one year, are authorized to do work in the state and in the city, if located in Joliet, and are not in debt to the city.
Any company that violates the terms of the deal will be prohibited from bidding on future city contracts for three years.
"The intent of this is to try to decrease unemployment in the city and to keep local businesses operating," Councilman Jim McFarland said Tuesday.
Contact Karen Sorensen at Karen@TheTimesWeekly.com.