Unity's Fairview community event for the children
5/6/2015, 3:13 p.m.
Joliet Unity Movement brought its message of empowering the community and inspiring/building children's lives to the Fairview Housing Complex, where members held a children's festival Sunday.

The neighborhood party featured basketball, double-dutch jump roping, kickball and a movie as well as lots of free food, including hot dogs, snow cones, juice and Little Debbie snack cakes.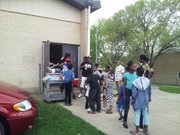 "We had a real good turnout," said Willie Ervins, Joliet Unity's vice president. "The kids had a lot of fun."
It's the first of several community events the group will be holding this summer, including another community event for the neighborhood at McDonough and Des Plaines streets on June 20 and the second annual Children's Weekend of Talent and Growth on Aug. 15 – aka 815.
The group is focused on children in eighth grade or young, and enlists high school-age children to help in organizing programs, educational contests and community service hours.
While the group's mission is similar to that of Men of Valor 2 and its Stop the Violence movement, and the two groups share some members, Joliet Unity is targeting younger children and holds programs and events aimed at children and the community, Ervins said.