Joliet high school students help sponsor Relay for Life
5/8/2015, 10:44 a.m.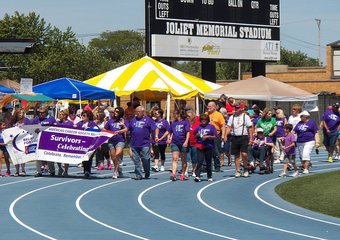 Joliet Township High School District 204 provided this news release:
The Students for Community Advocacy, Joliet West Key club, and Joliet West NHS have come together to sponsor the Joliet Relay for Life 2015. The SCA donated $500, NHS donated $300, and Key Club contributed $200 to reach the $1,000 Silver sponsorship level.
For the past three years, the SCA (formally known as the Relay for Life Club) has sponsored the Relay for Life anywhere from $1,000 to $3,500.
The money raised will help those who are battling right here in the Joliet community. Money raised through the event will also continue the research for a cure as well as spreading awareness to others.
"This year, I worked with National Honor Society and Key Club to raise funds as one group to sponsor the 2015 Relay for Life as a Silver sponsor," said Joliet West High School Instructor Kristen Koppers. "We individually raised money but came together as one."
Students in various clubs and organizations from Joliet West and Joliet Central signed up as teams to participate in this year's event. As of now, there are 10 teams with over 100 students that are signed up to walk raising over $1,500 in a short time.
Relay for Life is a fundraising event for the fight against cancer. This year's Relay for Life will be Saturday, June 6, at ATI Field at Joliet Memorial Stadium.