2015 Kia K900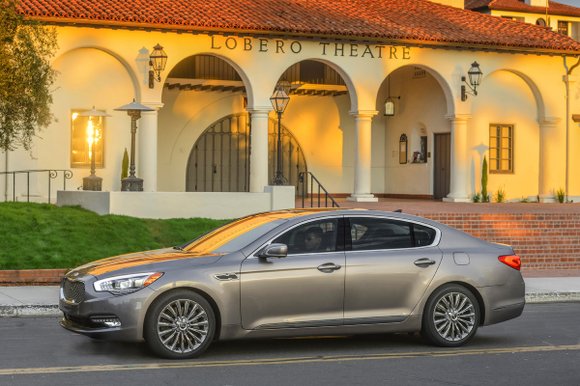 Eyebrows raised when Kia announced a little more than one year ago the development of the K900. After all, the Korean automaker had just introduced the Cadenza sedan about a year earlier. So why come to market with a full-size luxury sedan that seemed to be out of whack with the automaker's overall product line?
At the time Kia executives said they saw room emerging in the luxury sedan market for a $60,000 car as traditional luxury automakers moved up stream. This year, through March, 269 K900s were sold. That's not much but it is a relatively new nameplate and sales gains will be incremental.
Still, no one is saying that Kia's K900 is a shoddy car. In fact, in a recent ranking of large luxury cars, the Kia K900came in third out of eight products tested.
Our test car was powered by a 5.0-liter aluminum V8 that made 420 horsepower and 376 pound-feet of torque. It was mated to an eight-speed transmission. It is the only powertrain available. The big sedan had an EPA rating of 15 mpg in the city, 23 mpg on the highway and 18 mpg combined.
But though output remains the same the engine does come in two configurations: premium and luxury. In luxury, the transmission shifts by wire gear selector. In premium, it is shifted by cable gear selector.
It is the same thing with the headlights. Premium has HID headlights and luxury has LED headlights. Both have what Kia has branded Dynamic Bending Lights (read adaptable).
We had a Kia K900 with the luxury trim line. Still, either or, the engine moved the 4,555 lb. sedan effortlessly. It had four drive modes: normal, eco, sport and snow.
This car was quick, very quick. In sport mode especially, it was easy to get up to speeds that in places, like curving expressway entrances and exits, the K900 wasn't comfortable.
You don't take a full-sized sedan into a tight curve at 60 plus miles an hour. Still, the K900 got through it without tires squealing or body yawing.
The car had five link suspensions with stabilizer bars fore and aft. Though sizable, the setup made the car glide over the road without feeling disconnected. And that adhesiveness with the road was aided by hydraulic power steering. Many manufacturers are switching to electric power steering. We hope Kia holds out for real road feel with the K900.
Kia said the K900 had a swept greenhouse, subdued cut lines along the doors and a high rear deck lid that lent a muscular tension to the sheet metal.
The car featured Kia's tiger grille and side vents. The bottom line is that it looked like the wildly popular Kia Optima, just bigger, a lot bigger. It was 200 inches long with a 119.9-inch wheel-base. It was a spacious interior and that's where luxury is always conveyed in any vehicle.
Our tester had the VIP package that included a 12.3-inch full LCD TFT instrument cluster. We didn't like it. But don't get it twisted, we've yet to see a full TFT instrument cluster that we do like so our reaction was normal. Beyond that the K900's interior was top grade.