2015 Kia K900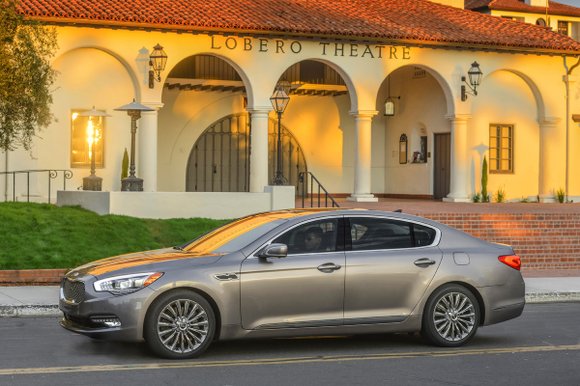 Fit and finish were great. The car had gray stained wood to match its black and white motif. The option package also included a heads up display, power headrests in the front, a driver's power seat cushion extension, reclining rear seats with lumbar supports and lateral adjusting headrests. There was also a panoramic roof.
This car was chauffer ready too. It had a control panel in the rear seat center armrest. It held switches for the power rear seats that were heated and cooled and they had power lumbar supports. Rear seat climate controls were there as well as the switch for the power rear sunshade. There were also manual side windows shades.
But the 2015 Kia K900 was also a driver's car. Not only did the blind side alert display in the side view mirrors it flashed in the heads up display. That was a more immediate warning right in our line of sight and it also served as a monitor that let us know when someone was in our blind spot on either side at all times.
We had a couple quibbles with the interior. There was one switch to control the panoramic roof and its interior shade. One seemed like too little. It was about pressure, a hard click opened the shade and the roof, a soft one just the shade would open. Another click stopped either the shade or the roof. It just wasn't easy to master and shouldn't have to be mastered.
Sunroof controls should be one of the intuitively easiest things to use. The last thing you want is to be caught up trying to get the sunroof and or the shade to do what you want to them do and in effect have one hand over your head while driving. Eh, no.
Our other quibble was really a snippet. The 2015 Kia K900 had a premium Exicon audio system that sounded really good. But we had to put on our glasses and get up real close to read the logo. If you think enough of the system to put the brand name on the speaker, then it should be made easy to read.
Still, the 2015 Kia K900 was a very engaging full size sedan. It had a base price of $59,500. Add the $6,000 VIP option package and a $900 freight charge and as tested our K900 was $66,400.
Frank S. Washington is editor of AboutThatCar.com.