County's annual native plant sale happening May 30
5/14/2015, 1:50 p.m.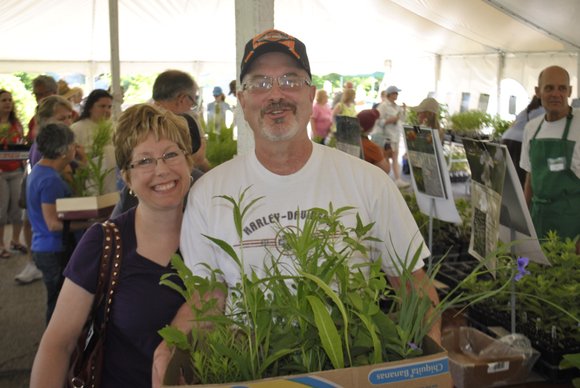 The Will County Forest Preserve District provided this news release:
Acquire the knowledge and the plants you'll need to create a backyard ecosystem filled with native species during the Forest Preserve District of Will County's third "Bringing Nature Home Native Plant Sale" from 9 a.m. to 3 p.m. on Saturday, May 30.
The District and its charitable foundation, the Friends of the Forest Preserve District, is partnering with Monee-based Possibility Place Nursery to offer the event at the Sugar Creek Administration Center, 17540 W. Laraway Road, Joliet. All proceeds from the plant sale, above event costs, will be used by the foundation to support the District's programs and services.
More than 100 species of native perennials, shrubs and trees grown by Possibility Place Nursery will be available for purchase. Native plants offer a more welcoming environment for animals, birds and insects and they reduce the need for fertilizers, insecticides or fungicides, which leads to cleaner water and air.
Presentations are scheduled on a variety of topics including: Conservation@Home, 9:30 a.m.; Composting is Something YOU Can Do, 10:30 a.m.; Monitoring the Monarch, noon; and From the Ground Up, 1 p.m. The Conservation Foundation will offer a rain barrel pickup from 9 to 11 a.m. for preordered 55-gallon rain barrels.
This year's plant sale also will feature an Illinois Natural History Survey exhibit called the Traveling Science Center, a 320-square-foot mobile classroom featuring exhibits on biodiversity, focusing on Illinois.
A variety of vendors also will be on hand. Argyle, Wis.-based Barn in the Sticks will offer U.S.-made bat houses, birdhouses and bird feeders for purchase. Other exhibitors and vendors include: Garden Clubs of Illinois – Milkweed for Monarchs Campaign, Will County Audubon Society, Illinois Native Plant Society, Wild Ones of Will County, The Conservation Foundation, University of Illinois Extension – Illinois Master Gardeners, Land Conservancy of Will County and Poopy-Doo Farms.
The native plant sale will be held rain or shine. Preorder a rain barrel and peruse a full list of available plants and pricing by visiting the Forest Preserve District's website at ReconnectWithNature.org. Cash, checks and credit cards will be accepted. No refunds will be given.