'Downtown' key to town identities, officials say
Brock A. Stein | 5/14/2015, 9:51 a.m.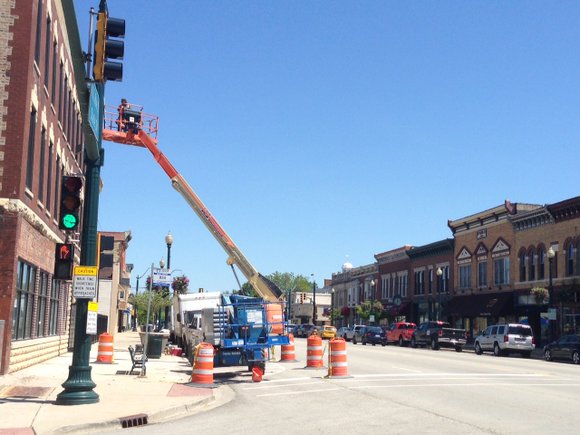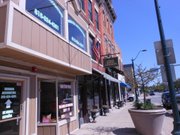 Rosemary Winters has owned a business in Lockport's historic downtown district for 25 years and is an unabashed fan of the stretch between 7th and 13th streets.
"I love it. I love the town," said Winters, whose Canal House Antiques is at 909 S. State St.
A volunteer with Mainstreet Lockport, a nonprofit agency that markets the downtown district, Winters said the area serves as a gathering place residents looking to window shop, dine or just mingle at the outdoor events.
The charm of the classic architecture, some dating back to the 1830s, is definitely a lure.
"I think people gravitate toward the downtown because it's interesting," she said.
Downtown districts can give a town an identity, but it can also be a struggle to find business owners willing to invest in older buildings that can take a lot of work and money to renovate and maintain.
Those towns that lack a traditional downtown, such as Romeoville, Shorewood and New Lenox, have a different type of struggle: How to create a sense of identity and community in a place that lacks a central focal point.
Several years ago, Plainfield sunk a lot of money into dressing up downtown Lockport Street, enhancing the streets and sidewalks with decorative pavers, installing old-fashioned light fixtures, and adding benches and landscaping. This spring, it sunk another $130,000 into "refreshing" it by cleaning the sidewalks, repairing broken concrete and doing other work.
While there has been some transition with businesses opening and closing over the years, Plainfield's built a reputation – especially for its restaurants and outdoor dining. Special events, such a weekly classic car shows, attract both locals and out-of-towners, Trustee Jim Racich said.
"Plainfield really has become a destination point," said Racich, who noted that its draw has only increased since the village board added downtown to the National Register of Historic Places.
"In order to attract people, you have to put your best foot forward," he said.
It's the kind of success that towns like Lockport would like to replicate, not only because of the quality of life it provides for residents but because it can pay off in generating new restaurant, sales and property tax money.
Property values in the district have gone up by $200,000, Plainfield Finance Director Tracy Pleckham said.
Towns that aren't fortunate enough to have a traditional downtown have attempted to create their own versions of space that can serve as a community focal point and, maybe, attract new business.
In New Lenox, there's the "Village Commons," an open green area surrounded by the village hall, public library and veterans memorial. Concerts and other events are held there in the summer.
Romeoville has spent thousands of dollars improving Route 53, tearing down such eyesores as the Crazy Rock strip club, building a new athletic and recreation center, and bringing in a developer to build a new shopping area called Uptown Square. A new village hall was built on Romeo Road, near its park district recreation center and Deer Crossing Park, to create a public gathering location for outdoor events.
The village of Shorewood has "Towne Center," where the village hall and a large park have been built. But the vision of creating a place that would combine recreational, residential and commercial into a central district has not yet come together.
A referendum to build a new library there was rejected by voters and plans for a large retail development anchored by a Kohl's store fell apart following of the 2008 recession.
It's back to the drawing board, said Mayor Rick Chapman, who still envisions an area that can be not unlike what downtown districts used to be in small towns.
"That's still the plan," Chapman said. "We've got a blank slate right now."
The village has hired a research and marketing firm to pique interest from commercial developers. The one advantage Shorewood has that old towns do not is the availability of open space, Chapman said.
"If (the economy) continues to go, pretty soon there may be some commercial investor that wants to take a look at it again," he said.
Lockport's also counting on the improving economy to spur the interest they're already seeing in the downtown district, City Administrator Ben Benson said.
They have two things working in their favor: A developer who is sinking $1.2 million into a downtown building and the state's plan to rebuild a portion of State Street in 2017, Benson said.
The city played a huge role in attracting developer David Mede to the old Volz building at State and 10th streets by purchasing it for $250,000 and then selling it to Mede for $10. Mede is now renovating it from top to bottom, with plans to open a restaurant on the first floor, a banquet facility on the second and office space on the third, Benson said. A tapas/martini bar will be located in the basement, he said.
The road improvements and million-dollar investment may just be the "catalyst" Lockport needs to replicate Plainfield's success, he said.
"A lot of capital improvement is going to be going on in downtown Lockport over the next few years," Benson said.
Contact Brock A. Stein at brocknewstips@gmail.com and on Twitter at @BrockAStein.