Bolingbrook mayor visits Ward students, donates $200 for supplies
5/20/2015, 11:03 p.m.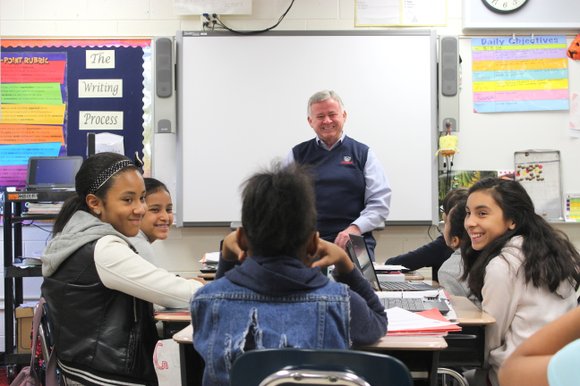 Fifth graders at B.J. Ward Elementary School learned first-hand Tuesday what it means to be a mayor of a town thanks to a visit by Bolingbrook Mayor Roger Claar.
The mayor, who was responding to student letters written to him as part of a persuasive writing project connected to Career Week at Ward, not only discussed his role and responsibilities but also answered dozens of questions.
"If you really like to help people, you can do more as an local elected official than in any other position including governor or president," Claar told students.
In their letters, several students suggested their teacher, David Gwynne, could use some markers and a Chrome Book for his classroom. The mayor responded by donating $200 of his own money to the class to help purchase the supplies.
Claar invited the students to visit him at village hall, pointing out that his door is always open to village residents.
"You can't forget how you got here," he said. "I work for our residents."