Letter: NAACP Freedom Fund Gala supports Joliet minority youth
Letter to the Editor
5/20/2015, 8:05 p.m.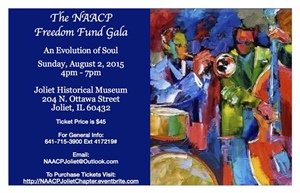 In support of the young adults of the Joliet area, National Association for the Advancement of Colored People (NAACP) is hosting our Annual Freedom Fund Gala on Sunday Aug. 2, from 4 to 7 p.m. at the Joliet Area Historical Museum 204 N. Ottawa St. in Joliet.
Since its inception in 1909, NAACP has supported continuing education for minority youth through its scholarship program funded in part by our annual Freedom Fund Gala.
In the past, the Joliet Branch of NAACP has awarded more than $100,000 in scholarships.
What is the FREEDOM FUND GALA?
Our annual gala serves as our primary fundraiser, which will honor individuals and organizations for their dedicated service in the Joliet Area. In addition to honoring our community recipients we will also award our scholarship to numerous deserving students.
• Sponsorship - we welcome sponsorship support at four levels
• In-Kind Donations - we welcome in-kind support in the form of goods/giveaways, which can be used in the silent auction
• Raffle Ticket(s) Purchase (price per ticket is $10)
• Event Ticket(s) Purchase (price per ticket is $45)
Tickets may be purchase electronically at http://naacpjolietchapter.eventbrite.com
The Freedom Fund Gala will be marketed through radio, email, print mediums, and social media providing additional exposure for your business.
We sincerely hope this solicitation has peaked your interest in our event and thank you in advance for your and consideration.
As a courtesy, we will be contacting you to follow-up regarding your potential support. In the meantime, if you have any questions regarding the Freedom Fund Gala, please contact Jaclyn Allen, Gala Chair, at 641-715-3900 ext 417219# or naacpjoliet@outlook.com.
Michael Clark
President, NAACP Joliet Chapter