IKEA to double its distribution center in Joliet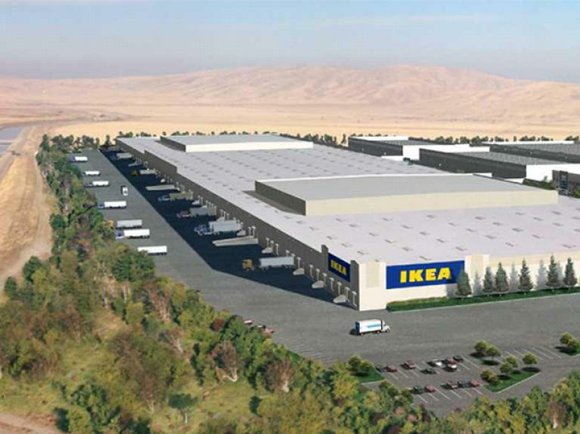 IKEA plans to build a second distribution center in Joliet, essentially doubling the size of its development in the city, the company announced Wednesday.
Just four months ago, the Swedish-based home furnishings retailer announced plans to build a 1.4 million-square-foot Midwest distribution center on a 72-acre site in the Laraway Crossings Business Park, located at Illinois 53 and Laraway Road.
It's now planning a second center of about the same size on land it's purchasing west of the first site, the company said in a news release. Plans for the project are to be submitted to the city this week.
"On the heels of securing all approvals for our first terminal in Joliet and moving forward with plans to construct that building, we are fortunate to have the opportunity to propose another building, on the adjacent property," IKEA U.S. CFO Rob Olson said in the release.
"We are pleased to consolidate our long-term Midwestern distribution operations at what will be our Midwestern hub in Joliet, and appreciate the city's support for this project."
IKEA's desire to expand its footprint in Joliet was revealed in March, when then-Mayor Tom Giarrante announced the company was in the process of buying the second site. At the time, however, company officials would not confirm the possible site expansion.
Mayor Bob O'Dekirk said he's pleased the company is making such a huge investment in the city.
"I think it's great news," he said. "I'm especially happy because it's going to be a different stratum of jobs, not just warehouse jobs. ... I understand it's going to run the gamut a little bit, with some upper-level jobs in the mix."
The development will also bolster O'Dekirk's renewed effort to have a new road built from Interstate 80 to accommodate truck traffic going to the CenterPoint intermodal facility, which he brought up at Tuesday night's city council meeting.
While the proposed road -- possibly a private-public project supported through tolls -- would not directly benefit the IKEA development, it would route a large percentage of trucks off of Route 53, he said. He plans to meet with Illinois Department of Transportation officials Thursday to discuss the concept, he said, and will use the IKEA project as an example of why truck traffic on Route 53 needs to be reduced.
Construction of the first distribution center is to begin either this fall or in early 2016 and will be open by summer 2017. No timetable has been announced for the second center.
IKEA currently has just five distribution centers in the United States -- two on the West Coast and three on the East Coast. Items stored and distributed at the Joliet location will be received at coastal ports from Asia and Europe and moved by train via the CenterPoint intermodal facility in Joliet.
The combined distribution hub will serve stores throughout the Midwest as well as fill orders placed by customers. In Illinois, IKEA has stores in Bolingbrook and Schaumburg, and it has just purchased a 49-turbine wind farm in Hoopeston, which is expected to be operational by this spring.
"By operating two Joliet terminals, IKEA will eliminate a significant amount of CO2 emissions annually, with even more reductions expected via intermodal solutions," the company said in its release. "IKEA also will evaluate potential on-site power generation to complement its current U.S. renewable energy presence at nearly 90 percent of its U.S. locations."
IKEA was founded in Sweden in 1943, and now has more than 360 stores in 47 countries, including 40 in the United States. It purchases goods more than 1,300 suppliers in 54 countries.
Contact Karen Sorensen at Karen@TheTimesWeekly.com.