McAsey working to overhaul School policies on student Concussions
5/20/2015, 8:37 p.m.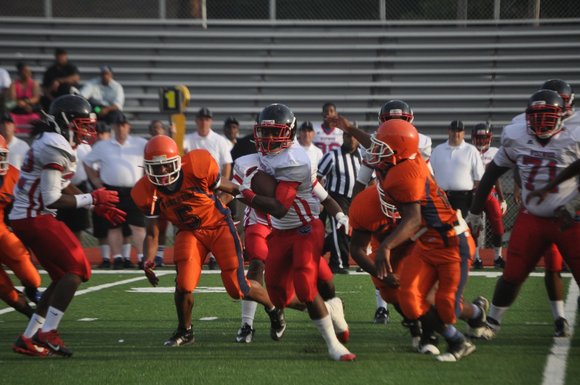 In response to the alarmingly high number of concussions and resulting long-term health consequences borne by student athletes, state Rep. Emily McAsey says she is working to advance comprehensive legislation to protect children who participate in interscholastic sports.
"The incidence of traumatic brain injuries among students is unacceptably high and poses a severe risk to the thousands of athletes across the state," McAsey said. "With each passing year, advances in medical technology and diagnostic techniquesdemonstrate how widespread this problem is and why urgent action is necessary."
The National Federation of State High School Associations estimates that at least 140,000 student athletes suffer concussions annually. The vast majority of these
cases go unreported, leaving those who have suffered an untreated concussion more likely to suffer from depression, sleep disorders, loss of memory and brain damage.
McAsey is sponsoring Senate Bill 7 in the House, which would require all schools in Illinois to create concussion oversight teams, composed of a physician, the school's athletic trainer and nurse, and a member of the school's staff responsible forimplementing return-to-play and return-to-learn policies. Those policies would prohibit a student who may have suffered a concussion from participating in regular academic work or extracurricular athletic activity until a physician has evaluated the athlete, and the student's parent or guardians have provided consent for the child to resume playing sports. Schools would also be required to implement emergency plans for handling instances of potential traumatic brain injury and concussion training would be compulsory for coaches, trainers, school nurses and game officials.
"Students who suffer an injury to their brain need rest and monitoring by responsible adults who are trained to recognize problem signs and understand that
prematurely returning to academic and athletic activity could be deadly," McAsey added. "This legislation is an important step in ensuring that consistent policies
protect student athletes across our state."
Senate Bill 7 is supported by the Illinois High School Association, Illinois Athletic Trainers Association, Illinois Advanced Practice Nurses Association, the
University of Illinois and numerous hospitals across the state. The measure currently awaits consideration by the House of Representatives.