Tangy Potato Salad with Bacon
5/20/2015, 11:04 p.m.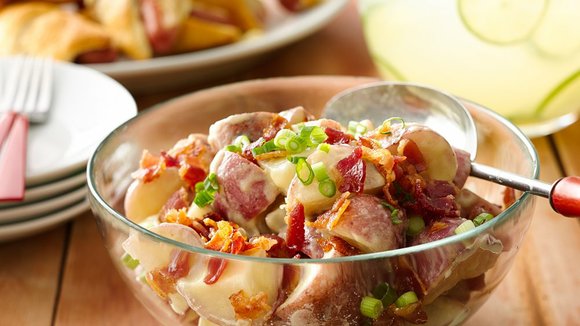 SERVINGS: 9
Ingredients
2 lb small red potatoes, halved or quartered
¼ cup olive oil
2 tablespoons Dijon mustard
2 tablespoons white wine vinegar
6 slices bacon, crisply cooked and crumbled (about 1/3 cup)
2 medium green onions, sliced (2 tablespoons)
DIRECTIONS:
In 5-quart Dutch oven, place potatoes. Add water to cover potatoes. Salt water generously. Heat to boiling over medium heat. Cook potatoes until tender when pierced with a fork, about 15 minutes. Drain potatoes.
In small bowl, stir together olive oil, mustard and white wine vinegar until smooth. Season to taste with salt and pepper. Drizzle mixture over potatoes. Toss to coat. Top with crumbled bacon and green onions. Serve warm, or cover and refrigerate, and serve when cold. Cover and refrigerate any remaining salad.