2015 New Orleans Wine and Food Experience off to rainy start
5/22/2015, 1:22 p.m.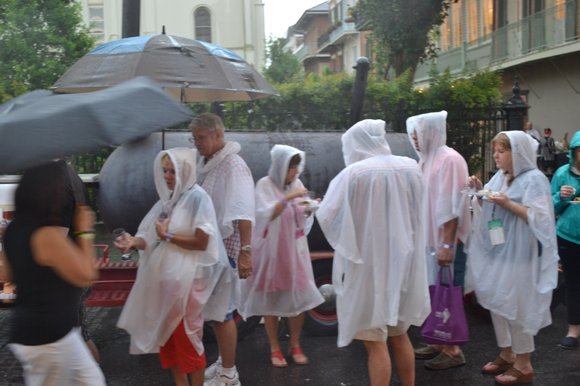 NEW ORLEANS--Nothing stops a party in the Vieux Carre, and that proved to be the case when a downpour showed up, just like clockwork, at the annual Royal Street Stroll that was the inaugural event of the 2015
New Orleans Wine and Food Experience. More than 400 hearty souls, donning rain slickers and toting umbrellas, braved the wind and rain to slog through the rain soaked cobble stone streets of the French Quarter to scoop up Shrimp 'Martinis', Crawfish Beignets, Catfish Sliders and Lobster Mac 'N Cheese, all
washed down with copious amounts of Barefoot Wine and Hendricks Gin Pimm's Cups. The Krew of Cork cut a lively step through the crowd with a jazz band playing N'Awlins favorites as the wine flowed in the art
galleries and antique shops along the way. Award-winning winemaker Jeff Farthing of Michael David winery poured his Incognito and Gluttony wines from Lodi, California at the Vincent Mann Gallery, while Willamette Valley Vineyards held forth with its marvelous Pinot Noir from Washington State at the Gallery Rinard. Jen Wall, winemaker at Barefoot, poured an unlimited stream of fruit flavored Barefoot Bubbly as NOLA
Restaurant and The Wine Group kept things flowing in the 500 block of Royal Street. Rouses Market served up a mean Muffaletta, the classic New Orleans sub sandwich while Hendrick's Gin mixed up some original twists on classic New Orleans cocktails and Kelly Love Jones kept the party swaying with lively swing music. Martin's Famous Pastry Shop provided a tasty after glow in the Food Truck Park on St. Phillip Street, while Tito's Lemonade Stand served up Stella Artois and Stella Cidre to "Let The Good Times Roll" into the night.