2015 New Orleans Wine and Food Experience Grand Tastings Showcase best of N'Awlins Cuisine and Drink
More than a thousand vintages paired with local New Orleans cuisine
5/23/2015, 5 p.m.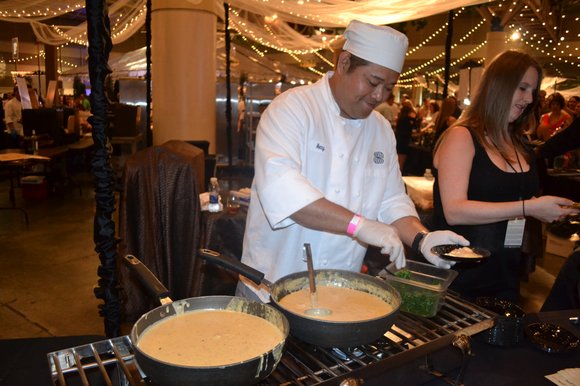 NEW ORLEANS---The Grand Tastings at the New Orleans Convention Center are the centerpiece events of the 2015 New Orleans Wine and Food Experience. More than 75 chefs from the Crescent City's top restaurants put out their best. Paired with more than a thousand wines from vintners from around the
globe, it was a gastronome's paradise. More than 2,000 patrons showed up, wine glasses and plates in hand to partake in cuisine that has made New Orleans the culinary capitol of the country. Among the offerings; Venison Sliders from Charcoal's Gourmet Burger Bar, Duck Confit with Red Dragon Welsh
Cheddar Tea Sandwich from the venerable Rib Room at the Omni Hotel in the French Quarter, Rabbit and Gulf Shrimp Fricasee' from Trenasse and Strawberry-Ricotta Ice Cream with Pistachios and Basil Coulis from The Creole Creamery. Constellation Brands presented a dizzying array of wines from Napa Valley and
around the world, including Estancia Wines from Monterey County. Stella Artois presented its famous Belgian Brew in its signature Lager glass. As always, Rouses Market, a 4 Star Sponsor of the Experience, dazzled with a smorgasbord of local cold cuts, cheeses and their newly created signature handmade
tortillas with beef and cheddar. NOWFE has donated more than $1.2 million to local charities. It has grown to become the premiere wine and food event in the country that showcases wine,beer and spirits from around the world alongside the exceptional food that New Orleans is known for. Its all here at NOWFE. Great wine, great food, all for a great cause!