More than a thousand vintages paired with local New Orleans cuisine
5/25/2015, 2:55 p.m.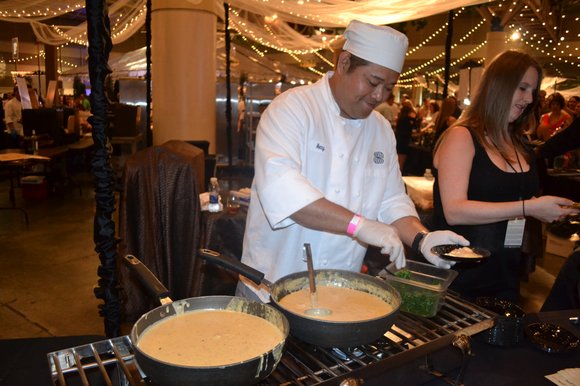 NEW ORLEANS---The 2015 New Orleans Wine and Food Experience is now in the history books, but this year's edition is notable because it raised a record amount of money for local charities and exceeded all expectations. More than $1.2 million were raised for local charities and participants went away with the impression that this was the best NOWFE ever! Grand Tastings at the New Orleans Convention Center were the centerpiece events. More than 75 chefs from the Crescent City's top restaurants put out their best. Paired with more than a thousand wines from vintners from around the globe, it was a gastronome's paradise. More than 2,000 patrons showed up, wine glasses and plates in hand to partake in cuisine that has made New Orleans the culinary capitol of the country. Among the offerings; Venison Sliders from Charcoal's Gourmet Burger Bar, Duck Confit with Red Dragon Welsh Cheddar Tea Sandwich from the venerable Rib Room at the Omni Hotel in the French Quarter with Executive Chef Tom Wolfe personally cooking and serving up the delicacy. Rabbit and Gulf Shrimp Fricasee' from Trenasse and Strawberry-Ricotta Ice Cream with Pistachios and Basil Coulis were served from The Creole Creamery. Constellation Brands presented a dizzying array of wines from Napa Valley and around the world, including Estancia Wines from Monterey County. Michael Benedetti demonstrated the company's latest innovation, a dispensing system for wines by the glass that poured straight from stainless steel barrels to the glass for absolute freshness and flavor quality. General Manager and Winemaker Clay Brock was on hand to personally pour Estancia Artisan Wines from Monterey County, California. He was recognized in 2010 as Winemaker of the Year by the Paso Robles Wine Council Alliance and the Central Coast Vineyard Team. Hyatt Regency New Orleans and 1718 Events Executive Pastry Chef Milan Smith proudly wore his Gold Medal Fleur De Lis Culinary Award for Desserts while serving his Gold Medal-winning creations, Petite Ravioli de Royan, Gulf Coast Blue Crab Chilled Yellow and White Corn Soup, Muscovy Duck with Butter Poached Spring Carrot and Sable Breton, with Louisiana strawberries Compote. Rouses Market, a 4 Star Sponsor, was a real crow-pleaser with
smorgasbord of local cold cuts, cheeses and their newly created signature handmade tortillas with beef and cheddar. NOWFE has grown to become the premiere wine and food event in the country that showcases wine, beer and spirits from around the world alongside the exceptional food that New Orleans is known for. It's all here at NOWFE. Great wine, great food, all for a great cause!