B.B. King: Why I Sing the Blues
Marc H. Morial | 5/27/2015, 7:26 p.m.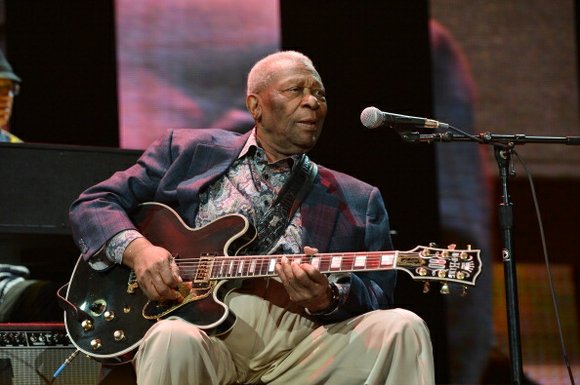 "The blues has lost its king, and America has lost a legend…B.B. may be gone, but that thrill will be with us forever." – President Barack Obama on the Passing of B.B. King.
As a young boy in 1920s Mississippi, Riley B. King – who would one day come to be known as legendary blues icon B.B. King – was introduced to the electric guitar at Rev. Archie Fair's church. The introduction soon turned into infatuation, with King deciding he would learn to play a guitar. As soon as King got old enough, he ordered a guitar playbook from a Sears, Roebuck and Co. mail catalog. The first tune he learned to play was "You Are My Sunshine." Fortunately for us, it would not be the last tune he would coax from his yielding guitar strings.
King was born in 1925 on a cotton plantation in the Mississippi Delta. The future King of the Blues, the son of sharecroppers and the great-grandson of a slave, worked the fields, first as a picker at the age of 7 and then a mule driver. He aspired to be a gospel singer like his mentor, Rev. Archie, but fate had other plans. In a 1993 interview, King admitted to leaving Mississippi in the early 1940s because of the racial violence, lynchings and hangings that were becoming all too commonplace.
King moved to Memphis, playing small gigs and working as a disc jockey at WDIA, the local blues station. The station manager dubbed King the "Beale Street Blues Boy," which was shortened to "Blues Boy," and then to B.B.—and it stuck. It was at this time that King made another momentous introduction, this time to T-Bone Walker singing "Stormy Monday." King said it was the first time he had ever heard blues on an electric guitar and he was determined to get one. He got that electric guitar in 1946.
What followed was an enduring, influential career that defined and redefined the blues—a quintessentially American art form with roots in African-American slave songs, field hollers and spirituals—King carried its moans and mourning to the four corners of the earth. The blues, set loose on the guitar strings and growl of one of America's greatest musicians, spoke of our universal experience of pain and perseverance, tribulations and triumphs. King once remarked that, "Blues music actually did start because of pain." A pain he experienced at an early age, and like so many influential and groundbreaking figures that had come before him, King used his talent to rise out of the dirt of his humble beginnings to live a life as industrious as it was incredible.
A 15-time Grammy Award winner—the most Grammys ever received by a blues singer—King was also awarded the Grammy Lifetime Achievement Award in 1987. In 1998, his most acclaimed song "The Thrill Is Gone" was awarded the Grammy Hall of Fame Award. King also received a National Medal of the Arts award, a Presidential Medal of Freedom and has been inducted in both the Rock and Roll and Blues Hall of Fame. King seemed to always be performing somewhere, playing an average of more than 200 concert dates a year well into his 70s. In 1956, King and his band played an astonishing 342 concerts. He never stopped doing what he loved most: playing the music, which he said "was bleeding the same blood as me."