Jefferson Street closure east of Scott starts June 4
5/29/2015, 11:03 a.m.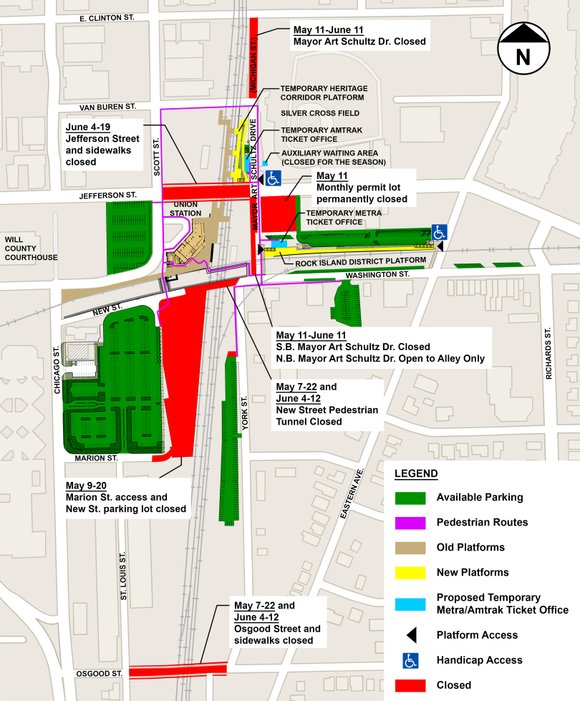 The city of Joliet provided this news release:
As part of the Union Pacific Railroad's work on the Heritage Corridor railroad bridges near the Joliet Gateway Center transportation campus, the Jefferson Street railroad viaduct, between Scott Street and Mayor Art Schultz Drive, will be closed for bridge work from Thursday to June 19.
As a result, Jefferson Street and sidewalks on both sides of Jefferson will be closed east of Scott Street.
All truck traffic and through traffic is encouraged to follow the state route posted detour north to Jackson Street, then south on Collins Street. Pedestrian and personal vehicle access to the train platforms, ballpark, and businesses on Jefferson Street, between Mayor Art Schultz Drive and Collins Street, should detour one block north to Van Buren Street, then south on Mayor Art Schultz Drive.
Pedestrians may also make use of the existing Union Station tunnel during regular hours of operation, 4:30 a.m. to 9 p.m., Monday through Friday only.
As part of a previous closure, Mayor Art Schultz Drive remains closed between Clinton and Van Buren streets, and southbound from Jefferson Street, until June 12. Vehicle access to the temporary Metra ticket trailer is only available from the south utilizing Washington Street to Mayor Art Schultz Drive.
The New Street pedestrian tunnel will be closed June 4-12.
Osgood Street and sidewalks will be closed between St. Louis and York streets from June 4-12.
Motorists are encouraged to seek alternate routes or allow for extra time when traveling in the area.
For additional information, contact the Department of Public Works at 815-724-4200.