Joliet committee temporarily tables 'puppy mill' ordinance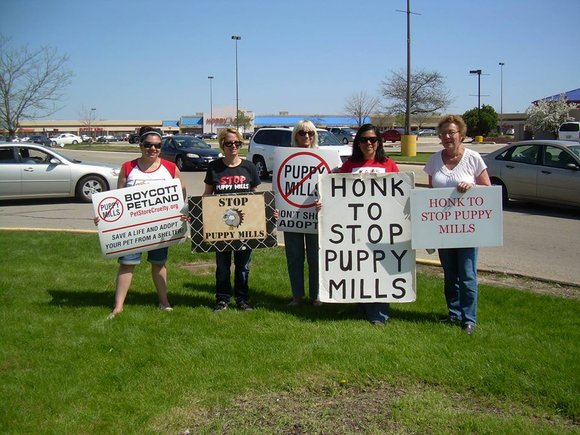 An ordinance making it tougher for pet stores to sell animals from "puppy mills" was tabled by a Joliet City Council committee Thursday in order to avoid a possible lawsuit.
The land use and legislative committee had revised rules ready for approval and listened to comments from animal rights proponents and pet store representatives before deciding it might be wiser to hold off on proceeding at the urging of city attorney Marty Shanahan.
Shanahan told the committee he "wrote the best ordinance I could," but said he couldn't recommend its passage because "it could open up the city to probable litigation."
Instead, he suggested the committee wait to see how lawsuits in Chicago and Cook County fare before moving forward.
Both governments have passed legislation tightening the way pets stores can obtain animals for sale and increasing regulations to safeguard customers, and both have been challenged in court. Cook County won its case, and is waiting to learn if it will be appealed, Shanahan said. The Chicago case is still pending.
Once he knows the outcome of those lawsuits -- assuming the proposed rules hold up in court -- he would suggest revising the proposed Joliet ordinance to reflect what was approved by a judge in order to stave off any challenges, Shanahan said.
Committee members agreed, saying the city could not afford to fight a lawsuit on the issue at this time.
Councilman Jim McFarland said, however, it was important to note that he will continue to push for the ordinance's passage and stressed that his goal in proposing the change was never to put anyone out of business.
"The intent of the council is not shut down stores," McFarland said. "It's to adopt a humane model in the way they go about (their business). ... We need to be the voice of the poor dogs that, in my opinion, are being abused."
The ordinance change has the support of several animal rights groups, which presented evidence that they said shows that companies such as Petland and Furry Babies -- both of which have stores in Joliet -- purchase the animals they sell from breeders with histories of animal abuse and violations of federal and state laws.
Dianne Arp, Chicago outreach coordinator for Companion Animal Protection Society, lauded the city for pursuing action cracking down on businesses that patronize abusive breeders without concern for the conditions that animals come from or the violations the breeders accrue. She said she believed Joliet residents agreed, based on her interaction with them.
"We're the group you see in front of the Joliet Petland every weekend," Arp said. "We're constantly surprised by the support we've received from your residents and passersby, and we're happy to educate unsuspecting buyers about the risk of buying a puppy from a pet store."
But Brian Winslow, regional director of operations for Petland Inc., said much of the data passed along as fact by animal rights groups does not apply to Petland.
They only purchase animals from breeders licensed by the U.S. Department of Agriculture and all of the animals they purchase are examined by a veterinarian both before and after they are sold to a customer, Winslow said. Of the 10,000-plus animal breeders in the country, many of whom do operate "puppy mills," Petland only buys from the 1,700 that are licensed, and those operations are routinely inspected by the company, he said.
While Joliet resident Matt Robinson said he was skeptical of Winslow's information based on what he's seen and the documented accounts of sick animals sold by Petland and other stores, he questioned why there was even a need for such businesses.
"We could shut down every pet store and still have plenty of cats and dogs (available for adoption from shelters and rescue groups)," he said. "We don't need pet stores and we don't need animal breeders."
Contact Karen Sorensen at Karen@TheTimesWeekly.com.