Plainfield approves snow removal contracts, intergovernmental agreement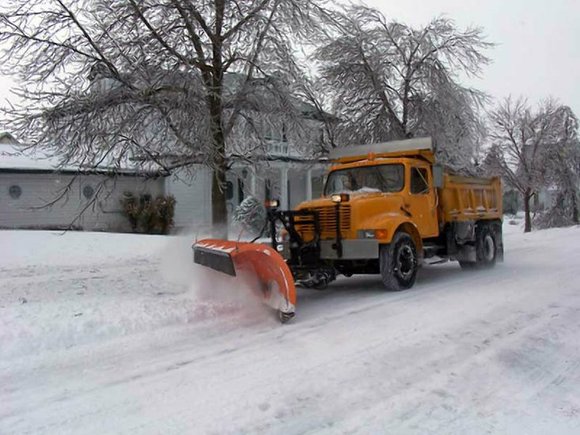 Plainfield trustees Monday approved another piece of their plan to improve village public works crews' readiness to clear streets during snow storms this winter.
Trustees signed off on agreements for 7 contractors who will pitch in to clear roads and cul-de-sacs during the winter months.
One of the contractors, Baish Excavating, will be called only during emergency snow events said Public Works Director Allen Persons.
The other six contractors include: K&D Enterprises Landscaping, Hively Landscaping, Antrex, Inc., Acres Group, Fazio Landscaping, and John Green Excavating.
The added contractors will be on call for their services said Persons who noted that the village would only pay for services rendered.
The village is doubling the number of contractors it uses for winter storms in response to an unexpectedly powerful storm that dumped 14 inches of snow on the village over the last weekend of January and beginning of February. The storm, which started on a Saturday left many side streets and cul-de-sacs impassable even the following Monday as residents were trying to get to work.
As part of its initial budget review for the 2016-2017 fiscal year at the end of October, Persons reviewed plans to double the number of plow contractors from 3 to 6 and also sought input from the village board about adding part-timers to supplement removal operations during particularly heavy snow events.
Persons said that the village received about 200 phone calls from residents disappointed in the slow response to digging out streets and in particular cul-de-sacs.
Much of the blame for the slow response resulted from a miscommunication with a contractor who experienced an equipment breakdown as well as a lack of heavy end loading equipment needed to move the wet, heavy snow.
The new contracts stress the need for the contracted workers to have "adequate communications" equipment in their vehicles and will be required to have hands-free cell phones as well as a list of contacts from the village.
Trustee Garret Peck Monday night said he heard from many residents after the storm who encouraged the village to invest in more snow removal equipment and personnel to pitch in during snow storms. He said that the current plan to hire contractors on an as-needed basis would save money but also bring what he estimated to be up to $3 million in added equipment to the village's use when needed.
"this is definitley the right way to go," said Peck who noted the expense of purchasing the equipment as well as the maintenance costs.
The village also approved an intergovernmental agreement with Na-Au-Say Township to assist with possible storm response and snow clearing during the winter. The village previously approved agreements with Plainfield and Wheatland Townships in October said Persons.
Na-Au-Say Township road Commissioner Ken Hostert said that the agreement allows his road crews to "share resources" and clear roads more efficiently. The township occupies about a 6 mile square on the eastern edge of Kendall County and includes parts of Joliet as well as Plainfield.
Some of the township's 30 miles of roadway have sections that have been annexed by Plainfield and Joliet he said making road clearing "kind of choppy" at times. He said that the agreement would also give them access to equipment that they would otherwise have to rent like bucket trucks that are used for street sign replacements.
"That will help us out," said Hostert.
The agreement with Plainfield will give both governments the ability to share equipment and personnel not only for snow clearing and salting in the winter but also for other public works functions including tree trimming and road repairs.
Contact me online at brock@thetimesweekly.com or on Twitter @BrockAStein