A NEW PRODUCTION OF WOZZECK AT LYRIC OPERA
When Alban Berg's Wozzeck debuted in Berlin, in1925,it was an immediate success in spite of its atonalities and sprechstimme. Though many sounds were edgily new, Berg's sprinkling in of tonal sections and his use of classical forms–including symphony, dance, variation, fugue, largo, rondo, passacaglia–to underpin his intricately constructed 15 scenes (three uninterrupted acts) provided a cushion of familiarity to the listener's inner ear. But what mostly grabbed and held attention was the story of the poor, common soldier who is so beaten down by life that he eventually implodes and murders his unfaithful mistress, the mother of his son. Sir David McVicar's new production for Lyric Opera, brilliantly conducted by Sir Andrew Davis, evokes similar responses nearly 100 years later.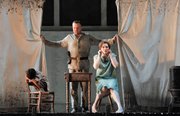 Wozzeck (Tomasz Konieczny), Marie (Angela Denoke), the Captain (Gerhard Siegel), the Drum Major (Stefan Vinke) and the Fool (Brenton Ryan) are artists making Lyric Opera debuts. Their returns will be welcome. Margaret (Jill Grove), the Doctor (Brindley Sherratt) and Andres (David Portillo) have appeared here previously. Together they make a fine, integrated ensemble, acting equal to singing, to create an spellbinding whole. Mr. Konieczny is an affecting Wozzeck, his disintegration all the more poignant because he looks so solid. Ms. Denoke's Marie is directed and costumed more as a simple hausfrau, giving no indication of her easy virtue. Zachary Uzarraga is the child.
Mr. McVicar and his designer, Vicki Mortimer, set the drama in
1920s' Germany, showing the locale's post-WWI devastation. The stage has two levels: the top level features a large statue of a shrouded dead soldier, his fist showing from under the shroud indicating that he is ready to rise again; the lower level, where most action takes place is like a series of dioramas; an unseen runner opening and closing a beige half-curtain. [Mr. McVicar often uses monolithic structures as a focus to telegraph the essence of the story, usually walls and/or stairs–Rusalka, Electra, Clemenza and Il trovatore].
Occasionally a scene uses the entire space. Particularly arresting: the doctor's domain where an enormous glassed circle within a square gives impressions of Wozzeck being observed as in a fishbowl as well as modernity, very different worlds depending on class. The scene at the end of Act II, in the soldiers' barracks, where the drunken Drum Major beats and humiliates Wozzeck, causing his final break–thanks to lighting by Paule Constable and fight design by Nick Sandys–is unforgettable. The last act opens with creative use of light to evoke the water in which Wozzeck drowns himself and ends with the poor orphan left alone on stage as the children excitedly go to see the grisly corpse; it is heartbreaking in its simplicity.
Some audience members lamented their friends who decided to skip the production because Wozzeck is not a familiar opera: "They had no idea of what they were missing." You have until November 21 to avoid making the same mistake.