Romeoville gets first look at Blain's Farm & Fleet concept plan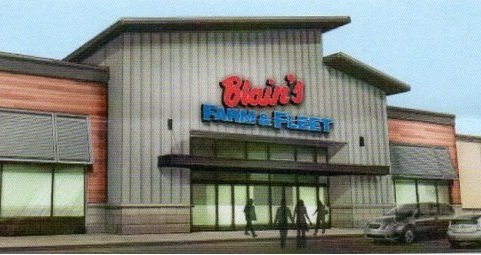 Romeoville officials got a first look at a proposed Blain's Farm & Fleet store planned for the corner of Weber and Airport Roads.
The village announced the plan for the family-owned company to build their first store in Will County in October. Currently, the closest store in the 36-store chain is in Montgomery, IL near Route 30.
Romeoville Mayor John Noak said that the plan is to develop the 29-acre site to include not only the new 122,000 square foot main store but also 7 retail outlots.

The store will have an automotive repair center and will be part of a new look for the chain which will include stone, metal and laminate facades.
Noak highlighted the broad range of products sold at the stores including tools, paint, toys, clothing as well as pet care items and sporting goods.

Trustee Joe Chavez noted that store will include some LEED--energy efficiency—aspects as well with skylights included in the design to take advantage of natural light.

Other new features will include a drive up service for customers to pick up bulk items such as landscaping supplies or internet orders without having to leave their cars.
The new location is expected to create around 100 new jobs.
The Romeoville store will be the 37th store in the chain which includes outlets throughout Wisconsin, Iowa as well as Illinois and employs over 4,000 employees.
A spokesman for the company told trustees that in the 60-year history of the chain, the Blain family has never had to close a store.
Noak said that the location of the new Romeoville store would set it up as a "destination" for shoppers outside of the village and would be an opportunity to reach "a much broader demographic."
In other business: Trustees approved the annexation of 332 acres of Will County Forest Preserve land into the village. The land, which sits south of 135th Street and west of the Des Plaines River near an easement owned by Commonwealth Edison (ComEd).
The land being annexed was previously owned by the Metropolitan Water Reclamation District said Administrator Steve Gulden and was later inherited by the Forest Preserve District.

The newly annexed property would be used to "expand access for recreational opportunities" in partnership with Will County Forest Preserve District said Mayor Noak.