JJC Veterans Day program to feature music, moment of silence
11/8/2015, 4:15 p.m.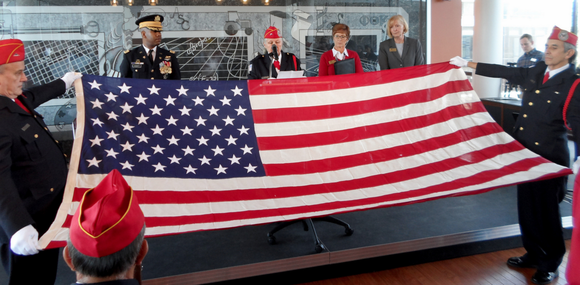 Veterans and community members are welcome to attend a Veterans Day ceremony at 12:30 p.m. Nov. 10 on the Bridge at Joliet Junior College's Main Campus, 1215 Houbolt Road in Joliet.
JJC's Veterans Day Ceremony is an occasion when students, faculty and staff get together to celebrate and thank local veterans for their years of service. Veterans in attendance are encouraged to wear something that signifies their military branch, such as their uniform, a hat, or a pin.
Refreshments will be available for all attendants and participants after the ceremony. As a JJC tradition, the oldest and youngest veterans in attendance will receive the honor of cutting the cake.
The complete JJC Veterans Day ceremony schedule is as follows:
– Welcome, JJC President Dr. Deb Daniels
– Posting of Colors
– National Anthem, led by JJC choir members
– Moment of Silence
– Introductions, Abraham Lincoln National Cemetery Memorial Squad
– Taps
– Flag folding demonstration
– Armed Forces Medley
– Performance of "Blades of Grass and Pure White Stones," arranged by Keith Christopher and performed by members of the JJC Chamber Singers and JJC Chorale. Directed by Professor Philip Spencer, Conductor Debra Miller, and Accompanist Robyn Clark, on trumpet
For more information about the ceremony, contact Pam Dilday at pdilday@jjc.edu or 815-280-2755. For information about veteran resources at JJC, visit http://www.jjc.edu/financial-aid/Pages/veterans.aspx.