Grand Crus Classes of Saint-Emilion 2015 US Tasting Tour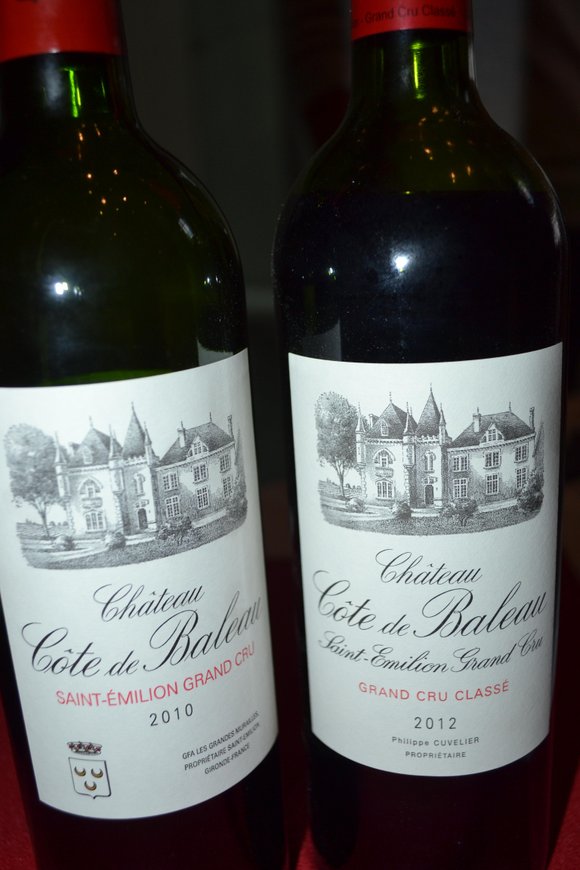 The Association de Grands Crus Classes de Saint-Emilion embarked on its 2015 Tasting Tour in three major cities, in New York at the Metropolitan Pavilion, Chicago at the architecturally stunning Venue Six10 atop the Spertus Institute of Jewish Studies and in San Francisco's Terra Gallery near the San Francisco Museum of Modern Art and the Gallery District. The artistic setting was appropriate to the art-in-the-bottle presented by the 25 winemakers who were present to personally pour their 2010 and 20132 vintages in their US debut.
Most of the wines sampled hovered in the $25-$65 range, not cheap, but well worth the price. They pack a lot of flavor and body into their wines. If you're a lover of French wines, as I am, you may recognize some of the names; Chateau De Pressac, Clos De Jacobins, Chateau Dassault, Chateau Grand-Pontet. Among my personal favorites was the 2010 Chateau de Ferrand, which can be had for about $35 a bottle. Marie Pourquet poured a generous tasting portion for me and I was amazed at the distinctive floral aroma. It had the perfume of fresh-cut roses. A blend of 75% Merlot, 24% Cabernet Franc and 1% Cabernet Sauvignon, the wine is fermented in 50% stainless steel and 50% glass-tiled concrete, a practice of many of the producers in the area. It preserves not only the natural fruit flavors, but enhances the unique soil characteristics of the regions terroir, which is a blend of clay and sand on a layer of iron-rich clay. The wine is produced by means of organic viticultural methods from 42 year old vines that are picked at optimum ripeness in early October.
The taste of the wine if arresting. First your mouth is awash in flavors of dark fruits; plums, ripe blackberries tinged with anise. The opulent fruit is supported by an undercurrent of minerality from the rich and complex soil from which the grapes are derived.
The wine is made in the north of the Saint-Emilion appellation, close to the famed Pomerol. Its a pedrigree that shows in the final product.
Francois Despagne grabbed my attention in order to pour me his 2012 Chateau Grand Corbin-Despagne-(about $47), another 75% Merlot, 24% Cabernet Franc, 1% Cabernet Sauvignon blend. The wine gets a distinct toastiness from aging in French oak from various origins and 50% each of old and new oak casks. Oenologist Jean-Philippe Fort uses all organic viticultural methods to achieve spectacular results!
It's always nice to see a familiar face at these trade tastings, and Guy Meslin, owner of Chateau Laroze tugged at my sleeve to pour me his 2010 Chateau Laroze, a steal at $45. The grapes are grown at the foot of a western slope about a mile or so from the village. The unique soil composition of silica over clay gives the wine its distinctive character and structure. A blend of 70% Merlot, 25% Cabernet Franc and 5% Cabernet Sauvignon, the grapes are grown on 20 year old vines and fermented in stainless steel and concrete. Consulting oenologists Hubert de Bouard (angelus) and Jean-Philippe Fort of Rolland Consulting (boy, he really gets around in the region!), have created a masterpiece of careful slow, methodical vinification and careful aging.