2015 Chevrolet SS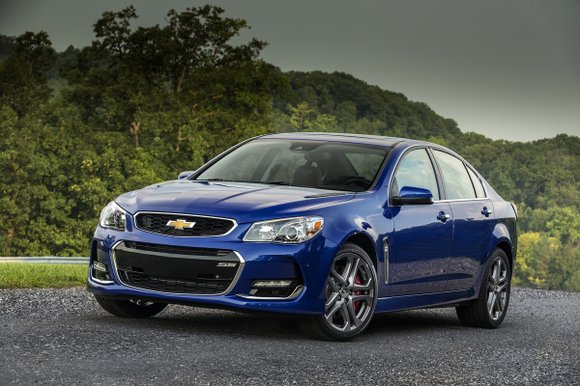 Not that many people are aware of the Chevrolet SS. It is a distinctive compact sedan with several outstanding features.
The compact sedan had a sizable 6.2-liter V8 that made 415 horsepower and a matching 415 pound-feet of torque. The engine could be mated to a six-speed automatic transmission or a six speed manual gearbox. We were lucky enough to get the manual and with it came an aggressive 3.70 axle ratio.
The rear-wheel-drive 2015 Chevrolet SS had an EPA rating of 15 mpg in the city, 21 mpg on the highway and 17 mpg combined. Magnetic Ride Control contained body sway. With it came a drive mode selector that could put the car in sport, touring or performance modes.
A sporty ride was provided by a MacPherson strut front suspension with direct acting stabilizer bar, forward mounted steering rack and dual lower links with individual ball joints at the outer ends.
The SS had 19-inch forged aluminum wheels and Bridgestone performance tires. The car had chrome gills and a dual sport tuned exhaust. It really did sound menacing.
The gar ratio could have been a little tighter to make gear selections a bit smoother. But once acquainted with those gears the SS was an awful lot of fun to drive. And it got plenty of attention. Chevrolet's only problem with this car is most people didn't know what kind or car it was.
Acceleration was great. The car cornered well. And braking was good. The suspension was firm without being harsh. But electric power steering took much of the feel for the road away.
The SS had a 50-50 weight distribution which caused easy maneuverability and balance. The car had an aluminum hood and deck lid to save weight. Safety features included park assist that provided hands free parking, forward collision warning, lane departure warning, blind side alert and rear cross traffic alert. There was also a rear-view camera.
It had Chevrolet's MyLink infotainment system. Satellite radio, OnStar, Bluetooth, auxiliary jacks, USB port, heated and cooled front seats, alloy pedals, rear spoiler, Brembo performance brakes, and there was more.
What's more, all the equipment on the 2015 Chevrolet SS was standard. The only thing to choose was the transmission which cost the same. The base price was $45,745. Add a 995 freight charge and the total came to $46,740.
Frank S. Washington is editor of AboutThatCar.com.