Dist. 202: Kindergarten forums, new scholarship, art exhibit, other news
11/16/2015, noon
Here's a roundup of news from District 202:
Forums on full-day kindergarten scheduled
District 202 will host two community forums to share information about its full-day kindergarten program that will be implemented next school year.
Nov. 30, 6:30 to 8 p.m., Ira Jones Middle School, 15320 Wallin Drive, Plainfield
Dec. 2, 6:30 to 8 p.m., Aux Sable Middle School, 2001 Wildspring Parkway, Joliet
The forums are free. Community members can attend either or both. The forums will also be recorded and posted on a special "Full Day Kindergarten" link posted on the front page of the web sites for all 17 District 202 elementary schools, the Bonnie McBeth Learning Center and the District 202.
Full-day kindergarten was identified as a top priority in 2011 as part of the district's current five-year Strategic Plan, so district officials decided to implement a limited program in 2016-17. Work to develop the initiative has been ongoing for three years.
The 2016-17 pilot full-day kindergarten initiative will serve one classroom of 24 students at each of the district's 17 elementary schools. Students will be picked through a computerized, random, online lottery in early February 2016.
Students to have art exhibited at JJC
Nineteen District 202 high school student artists have been invited to exhibit their works in the 2015 Joliet Junior College Area High School Art Exhibition, with three receiving an Award of Excellence for their achievement.
Twenty-two area high schools submitted 102 pieces of art for this year's exhibit. The exhibit runs through Dec. 11 at the Laura A. Sprague Art Gallery at Joliet Junior College-Main Campus. The full-time JJC studio art faculty also recognized 22 students for outstanding achievement.
The students whose work is on display are:
Plainfield High School - Central Campus -- Heather Bailey (junior) - charcoal; Catherine Coyle (senior) - pen and ink; Graham Nahikian (senior) - acrylic on board; Nicole Robinson (senior) - digital photography; Tia Smith (senior) - acrylic *Award of Excellence.
Plainfield South High School -- Arianna Adcock (sophomore) - photography; Brittany Blum (senior) - stoneware; Kayla Castellanos (senior) - stoneware *Award of Excellence; Jenna Monteleone (senior) - earthenware and polymer clay; Brandon Shappa (senior) - stoneware.
Plainfield North High School -- Haley Grindle (senior) - ceramics with acrylic and gears; Eileen Martello (senior) - ceramics with acrylic and fabric; Kailee Willhalm (senior) - watercolor; Cecilia Yang (freshman) - graphite.
Plainfield East High School -- JoAnne Hatley (senior) - digital photography *Award of Excellence; Courtney Krempp (senior) - acrylic; Makenna Pranchke (senior) - acrylic, cut paper, and Mode Podge; Josephine Sokoloski (sophomore) - digital illustration; Lauren Turk (senior) - plaster, acrylic, and plastic modeling gel.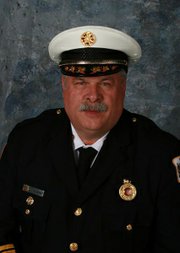 New scholarship honors former fire chief
The Plainfield Fire Department has created a new scholarship to help District 202 high school students looking to major in fire service, public safety or medical and emergency services.
The Chief John Eichelberger Public Safety Scholarship will award $500 annually to four District 202 students who live in the Plainfield Fire Protection District.