State, U.S. legislators holding public events
11/16/2015, 10:39 a.m.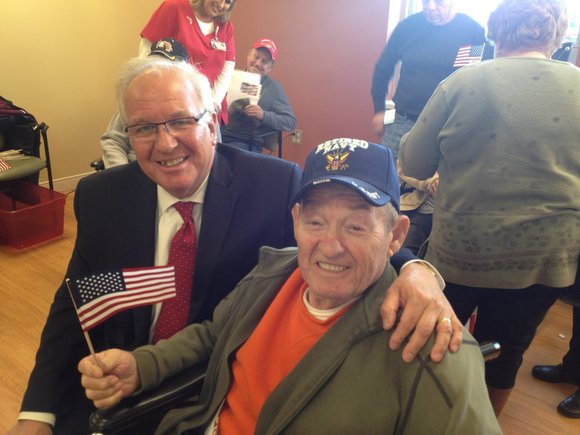 Here's a roundup of local state legislative news:
Manley to hold retiree advisory meeting
State Rep. Natalie Manley, D-Joliet will host a Retiree Advisory Committee from 10 to 11 a.m. Nov. 23 at her district office, 2701 Black Road, Suite 201, Joliet.
"This year, I supported several measures that protect the essential services that our seniors and retirees rely upon," Manley said. "At this meeting, I will not only provide information about what I am doing in Springfield to help our seniors, but you will also have the opportunity to give me your ideas for legislation and play a key role in the democratic process."
Manley was the chief House sponsor of Senate Bill 1846, which created the Silver Search Program and Task Force to alert the public of when someone 21 years old or older with Alzheimer's or a similar form of dementia goes missing; the program is similar to an Amber Alert. The measure is now law.
The committee is free and open to all residents of the 98th district. However, an RSVP is required to ensure proper accommodation for those in attendance.
For more information, or to RSVP, call 815-725-2741 or send e-mail to RepManley@gmail.com.
Manley 'Coffee and Conversation on Nov. 21
State Rep. Natalie Manley (D-Joliet) will meet with constituents from 9 to 10 a.m. Saturday for her monthly "Coffee and Conversation" at Panera, 2360 S. Route 59, Plainfield.
"Residents have many questions and concerns, especially about the state budget impasse and the uncertainty surrounding the funding for critical services," Manley said.
"I have voted for numerous measures to provide needed funding for services that local residents count on, but there has not been enough support from all legislators or the governor to pass them. These meetings give constituents the chance to ask questions, share their concerns and find out the status of certain issues. Many programs that are important to our community hang in the balance and might be subject to devastating cuts, so I am working every day to protect them."
For more information, or to RSVP, call 815-725-2741 or send email to RepManley@gmail.com.
Lipinski holding town hall, vets fair and senior fairs
U.S. Rep Dan Lipinski, whose 3rd District including Lockport, will host a town hall meeting, veterans fair and two senior fairs in the coming month.
At the town hall meeting, to be held from 7 to 9 p.m. Dec. 3 at the Oak Lawn Public Library, 9427 Raymond Ave., area residents will be able to hear from Lipinski about his work at home and in Washington, as well as ask questions and voice their opinions about federal issues.

Staff from the Congressman's office will be available beginning one hour prior to the start of the meeting to provide assistance with Medicare, Social Security, veterans' benefits, and other federal matters.
The veterans fair will be held from 10 a.m. to noon Nov. 20 at the Johnson-Phelps VFW Post 5220, 9514 S. 52nd Ave., Oak Lawn. Lipinski's staff will be joined by the Illinois and U.S. Departments of Veterans Affairs and other organizations to assist with a variety of issues, including military personnel and medical records, veterans' claims and benefits, medals earned but not received, VA Hospital billing, placement in VA homes, and GI Bill information.
The senior fairs are set for 10 a.m. to noon Nov. 23 at the Sabre Room, 8900 W. 95th St., Hickory Hills, and 10 a.m. to noon Nov. 30 at American Legion Post 735 at 6050 S. Harlem Ave., Summit.
For more information, go online at lipinski.house.gov or call 773-948-6223.