2016 Toyota Corolla S Plus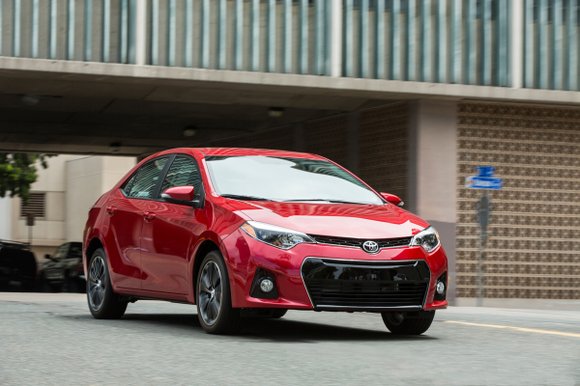 Toyota's Camry has been the best-selling car for years but the company's Corolla has defined the brand for decades. And it is still America's best-selling compact.
The new Corolla was big, for a compact. And that meant there was a bunch of rear-seat room. Two adults could get in the back seats and have plenty of head, hip and leg room.
The test model was a 2016 Toyota Corolla S and yes that S did stand for Sport. The car had a 1.8-liter direct injection four cylinder engine that made 132 horsepower and 128 pound-feet of torque. It was mated to a six-speed manual transmission.
Fuel consumption was pretty good. The Corolla S got 28 mpg in the city, 37 mpg on the highway and 31 mpg combined. It had an exclusive piano-black grille, rear spoiler, fog lights, and chrome-tipped tailpipe and 17 inch alloy wheels. Springs, dampers and bushings were all unique to the S model.
It took a couple of days to get the feel of the manual gearbox, each manual shifter has its own personality. But once mastered it was a smooth shifting transmission. Like most low horsepower cars with a manual transmission, there was some downshifting to build torque, thus power, but surprisingly not that much.
The car had an independent strut suspension in the front and a torsion beam rear suspension. This set up gave the Corolla a smooth ride, the car handled the ruts and crevices of city streets without a lot of fuss and it didn't transfer much of the road noise of the streets into the car.
Its electric power steering system was adequate. Response to driver input was decent and stopping power generated by ventilated disc brakes in the front and solid disc brakes in the rear was pretty good. Turning radius was 35.6 ft. but we thought 3.19 lock to lock turns was a bit much. But the Toyota Corolla was not a sports car.
The dash was a clean horizontal layout that was made to look wider with the use of piano black surfacing on either side of the infotainment system. The manual seats were comfortable and they were nicely done with a sort of herringbone pattern in the cloth.
There was a TFT screen between the odometer and speedometer. It was programmed to deliver all sorts of information but one thing it didn't have, at least we couldn't find it, was a digital readout of mph. Yes, the speedometer was there but the numerals were small and they were in blue coming out of a black background; not that easy to see.
Once we thought we were doing 70 mph but it was really 80 mph. That brings us to the Corolla's characteristic of power. Acceleration was just about nonexistent but give the car just a little bit of time to get up to speed and it cruised really well.
This test car had a sun roof, Bluetooth, a backup camera, satellite radio, Toyota's Entune app –filled infotainment system and a navigation system. There was USB and auxiliary jacks, as well as a high definition radio and a 12 volt socket. For $22,430 the 2016 Toyota Corolla S Plus was not a bad deal.
Frank S. Washington is editor of AboutThatCar.com.