Plainfield North student scores perfect 36 on ACT
10/2/2015, 1:07 p.m.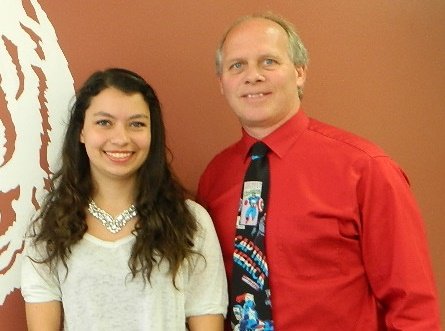 District 202 provided this news release:
The third time really was the charm for Sierra Lopezalles.
The Plainfield North High School senior earned a perfect 36 composite score on the ACT college entrance exam on her third attempt. She took the test in early September as part of a national administration.
She got a 34 on both of her earlier tries - a great achievement for many, if not most people -- - but Lopezalles said she knew she could do better. "I didn't want to do anything less than my best," she said.
Lopezalles first took the test in the spring of her junior year along with all high school juniors as part of the Prairie State Achievement Exam. She took it again during a national administration this past February.
She admitted that there's also a little bit of friendly "academic" competition going on between herself and some friends. The friends have been named National Merit Scholarship semifinalists - but Lopezalles is in the only one with a perfect 36.
The composite score is the average of scores on four subject area tests in math, English, reading and science.
Lopezalles said she earned 36's on both the math and science tests, and 35's on the reading and English tests. She participates in band, the theater tech crew, National Honor Society and the French Honor Society.
Her mother, Cindy Lopezalles praised Sierra's teachers throughout District 202, at Walker's Grove Elementary and Ira Jones Middle School, as well as PNHS. "Something like this doesn't happen without excellent teachers," she said.
Lopezalles said she hopes to study molecular biology at California Institute of Technology and eventually work in the medical research field.
On average, less than one-tenth of one percent of students who take the ACT earn the top score, according to the ACT.
Among test takers in the graduating Class of 2015, only 1,598 of more than 1.92 million students earned a composite score of 36.
"We are very proud of Sierra and her accomplishment," said PNHS Principal Ray Epperson.