Downtown Joliet transportation center now $7M over budget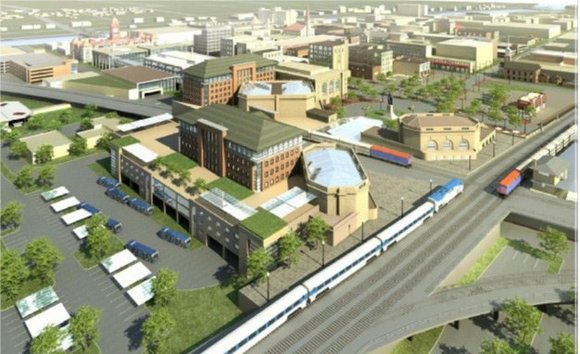 The downtown Joliet transportation hub is $7 million over budget, in part because the state is refusing to release the funding earmarked for it or to honor an earlier agreement that it would cover cost overruns, the Joliet City Council was told Monday.
"I think things are best described as 'complicated' as to the current state of the project," said Steve Jones, who's overseeing the work for the city.
That's because at this time last year, Pat Quinn was still governor, the Illinois Department of Transportation director that city officials were working with was still on the job and the budget stalemate between now-Gov. Bruce Rauner and the General Assembly had not yet occurred.
Cost overruns have already put the project $2.1 million over budget as of this summer, but a more serious blow was dealt when bids for the construction of a new train station and the platform for Metra Rock Island/Amtrak passengers came in $2.7 million.
IDOT officials knew the construction would likely cost more than projected and negotiated a deal with the city that ensured the state -- not Joliet -- would pony up the extra money needed.
That deal, however, was rescinded when Rauner was elected and a new IDOT director hired, Jones said.
Beyond that, IDOT is now refusing to release $2.2 million in contingency funding until the city can prove it has the $1.5 million to $1.7 million needed to complete the final phase of the project: A new bus station to be used by Pace and cross-country bus companies, such as Greyhound.
City efforts to get IDOT to change its position and allow the city to put the bus station on hold and release the state funding so the train station and platform can be completed have been rejected, City Manager Jim Hock said.
The city even pledged to take on additional costs, such as paving the train station's east lot and making changes to Mayor Art Schultz Drive, in order to reduce the state's costs, but without success, he said.
State legislators who represent Joliet are now tasked with making the case with state officials in an effort to get them to reverse their decision, Hock said.
"(IDOT said), 'We want all three of them done and we want you to pay for it, Joliet,'" Jones said. "It's illogical to hold up all three projects when we can get two of them done."
Councilman Jim McFarland said the city cannot wait for the state if it means holding up construction. Although he believes the project has been a "boondoggle since day one," asking Metra and Amtrak patrons to be inconvenienced for another year is not acceptable, he said.
"We cannot go into another winter season and another summer season without a conducive train depot," McFarland said. "We can't be at the mercy of the state. We've got to have a plan."
Contact Karen Sorensen at Karen@TheTimesWeekly.com.