'Hallows Eve' returns to Bi-Park stage Oct. 17-18
10/6/2015, 2:34 a.m.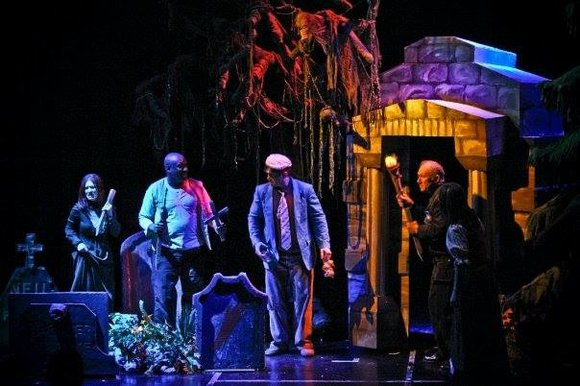 Billie Limacher Bicentennial Park provided this news release:
Halloween lore comes to life on stage through adventures, touched with history and humor at Billie Limacher Bicentennial Park Theatre in Joliet.
Traveling back in time to ancient Egypt for the mummy's awakening is just one the many adventures audience members will enjoy during "The Spirit Of All Hallows Eve," being presented Oct. 17-18.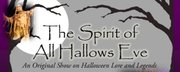 Live indoor performances are at 1 and 4 p.m. Doors to the "Halloween forest" in the lobby open at noon. The theater is located at 201 W. Jefferson St.
Show admission is $5 (cash or check), and $4 for groups of 10 or more.
Halloween enthusiasts will enjoy this unique look at Halloween. As the eerie music rises and the lights dim, the narrator speaks from the shadows. His tale takes the audience back to ancient Egyptians, mystic Druids and early American settlers as they try to explain the unexplained. Creatures appear from the shadows within he woven tales touched with history and even humor.Whether real or imagined, it's up to the audience to decide.
This is the 10th run of this original Halloween tale by the Bard's Guild Theater. One of their founding members and authors of the show, Eric Moniger, was instrumental in bringing the show back to the park's theater last year.
Although originally created for the park's 2001 Pumpkin Fest, the show continued to attract fans when it appeared at Bolingbrook's Theatre On The Hill.
To celebrate the 10th run on the stage where it began, new mystic characters will be seen.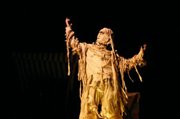 "The fairy realm was created to explain how the battle between the seasons of summer and fall mirrors the battle between life and death, and the thinning veil between the two recognized by many cultures at this time of year," Moniger said.
"But, before it gets too serious, we like to throw in some humor. You never know when it's coming. We like to keep the audience on their toes."
While there are a few medium "scary" moments in the show, it is laden with adventure, excitement, a bit of history, some words of wisdom, and even laughs. Suitable for families, those as young as 5 will enjoy the action and costumes, ethereal music and insight into Halloween history.
A sneak peek into this year's production of "The Spirit of All Hallows Eve," along with pictures from past shows, may be found on the Park's website: www.bicentennialpark.org.
This year's cast (in alphabetical order) are Bri Bell, Leo Brumbaugh, Elana Carmine, Zane Carmine, Danny Carroll, Paul Darrin, Kristyne "Kiki" Swan, Ryan Devine, Cheryl Foster, Natalie Gustafson, Tanner Lee, Jenna Maue, Katie Marx, Andy Mc Reynolds, Amber Scheible, Celine Stroupe, Jenna Wallace, Annalis Whalen and Faye Zolp.
People coming to the show are invited to break out their Halloween costumes early and wear them to the show. Everyone coming in costume will receive one free entry into a drawing to pick a glowing pumpkin from the Halloween forest in the lobby - one winner drawn at every show.
In addition to the show, audience members are invited to come early and enjoy the Halloween-decorated lobby, Spooky Boo-tiqueee (find little Halloween treasures, many handmade, 50 cents on up), Spirit Sweet Shop (featuring Halloween treats).
Check out the "Green Halloween Crazy Craft Corner" to make-and-take a glowing Halloween candy decoration out of a recycled bottle for just 50 cents. Supplies are provided, including a surprise for inside!

Another treat awaits just one lucky winner from all four shows. The Witches Night Out committee has graciously donated a frightfully delightful gift basket of Witches Night Out goodies (valued over $60), including two tickets to their popular Oct. 22 event — which often sells out. Winner need not be present during the drawing at the last show.

Reservations are recommended and can be made by the Bicentennial Theatre office at 815-724-3761 or emailing bipark@jolietcity.org.