Lyric Opera's Cinderella: Fun and Dreams in Glorious Color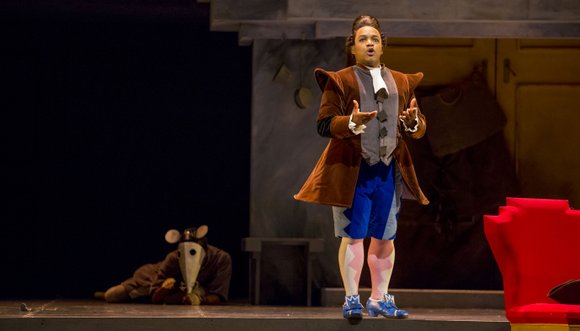 Last season's Barber of Seville was a confection of brightness and color in both look (oranges and yellows, plants and grilles) and sound.(Isabel Leonard, Nathan Gunn and Alessandro Corbelli). This season's Cinderella raises that bar. The new to Chicago production is a dream within a dream, an exhilaration of Spanish magical realism. Director Joan Font and Designer Joan Guillen create a zany world of sharp Mediterranean light (in counterpoint to Cinderella's drab, darkish home), a market day bazaar of sets and costumes in vivid colors and impossible elements including dancing mice, a mirror that magically becomes a carriage, a set that shifts back and forth from home to palace and back again; a court philosopher/ tutor, Alidoro, who makes magic (instead of the fairy godmother) and a prince who wants to be loved for himself. Transformations are the order of the day.
Cinderella is based on Charles Perrault's 17th century story of an ill-treated daughter, a wicked stepmother, a fairy godmother, a pumpkin coach, and a "magic" slipper. The opera changes a few things: the daughter is ill treated by a grasping, greedy stepfather, the fairy godmother is a male philosopher, and the slipper is a bracelet. In this production, the mice are a human size chorus of movers and dancers.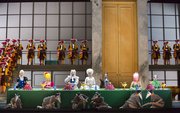 Nearing the 200th anniversary of its debut (Rome 1817), Cinderella is eternally relevant:
aspirations always vie with pretensions. The dream is that doing good, being good, can lead to happy endings and rags can become riches. Rossini's music for
Angelina/Cinderella (Isabel Leonard), Prince Ramiro (Lawrence Brownlee) and Alidoro (Christian Van Horn) is one character, often poignant; the music for Don Magnifico, Cinderella's stepfather (Alessandro Corbelli), the stepsisters Clorinda (Diana Newman) and Tisbe (Annie Rosen) and Dandini, the prince's valet (Vito Priante) is another full of show, and often elaborate ornaments, often precious and pretentious. Juxtaposed they frame parameters of the bel canto style.
Lawrence Brownlee, on of today's three reigning bel canto tenors –the others are Juan Diego Florez and Jose Camarena–made his eagerly awaited Lyric Opera debut as Prince Ramiro. He was worth the wait. Whether in his love-at-first-sight duet with Ms. Leonard, Un soave non so che, or his Act II aria, Si, ritrovarla io giurro, his singing was elegant and ardent, his tone honey-rich; his technique is so good, one almost doesn't notice it; even his high notes are gorgeous. He also had charming acting bits, which he did charmingly. In his servant disguise, when Cinderella gave him a broom and dust pan to sweep up, he had no idea of what to do. Later, when his valet, Dandini, disguised as the Prince, kept dropping his royal hat for "the servant" to pick up, he made of show of barely controlled exasperation. But he learned. When the reversed roles to themselves, the real prince dropped his had for the real servant to fetch.
Alessandro Corbelli is a gem and a wonder. An excellent actor, he owns the buffo roles his sings, especially in the Rossini (Don Bartolo) and Mozart (Don Alfonso) repertoire. He buffoons, but not too much; has style, but is stylized. And his patter singing: so many words in so little time so impeccably pronounced. Awesome. In these performances he is matched by Italian baritone Viot Priante, also making his Lyric debut, as Dandini, one of his signature roles. Their patter duet, Un segreta d'importanza, in which Dandini reveals he is the valet, not the prince, is an amazement of synchronized control.
Mr. Van Horn, a Ryan Center alum, excelled as the wise tutor. His aria, La del cielnel arcano profundo, assuring Cinderella that she will get to the ball, illustrates how agile a big bass-baritone voice can be.
Cinderella is becoming one of Ms. Leonard's signature roles. She is one of the most attractive women in opera today, a joy to watch on stage. Her acting is on a par with her singing. Both her soulful canzonetta about love, una volta c'era un re, and her coloratura were arresting. Though some of the top notes, especially in her final, virtuosic Nacqui all'affanno…Non piu mesta, were a bit shrill, they were always in tune.
The stepsisters Clorinda (Diana Newman) and Tisbe (Annie Rosen), both making their Lyric debuts, are first year members of the Ryan Opera Center. Singing actresses of a high order, their performances were a credit to the program as well as themselves.
Sir Andrew Davis's conducting, from the first notes of the overture, was sunny, spacious, and sprightly. His delight was infectious.