Fresh Apple Cake with Browned Butter Frosting
10/15/2015, 1:23 a.m.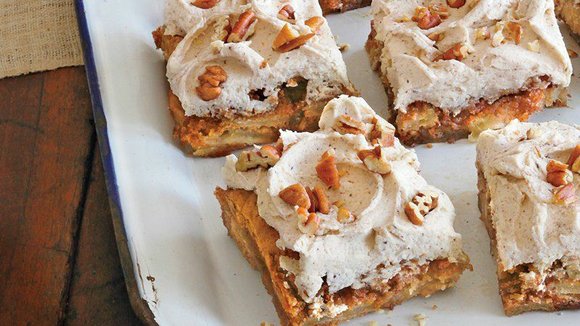 SERVINGS: 15
Ingredients
1 1/2 cups chopped pecans
2 cups all-purpose flour
2 teaspoons ground cinnamon
1 teaspoon baking soda
1 teaspoon salt
1/2 cup butter, melted
2 cups sugar
2 eggs
2 teaspoons vanilla
2 1/2 lb Granny Smith apples (about 4 large), peeled, cut into 1/4-inch wedges
1 cup butter
1 box (16 oz) powdered sugar
1/4 cup milk
Directions
Heat oven to 350°F. Spread pecans in ungreased shallow pan. Bake uncovered 6 to 10 minutes, stirring occasionally, until light brown. Cool.
Spray 13x9-inch pan with cooking spray. In medium bowl, mix flour, cinnamon, baking soda and salt. In large bowl, stir together melted butter, sugar, eggs and 1 teaspoon of the vanilla until blended. Stir in flour mixture just until blended. Stir in apples and 1 cup of the toasted pecans. (Batter will be very thick, similar to cookie dough.) Spread batter in pan.
Bake 45 minutes or until toothpick inserted in center comes out clean. Cool completely in pan on cooling rack.
Meanwhile, in 1-quart heavy saucepan, cook 1 cup butter over medium heat 6 to 8 minutes, stirring constantly, until butter begins to turn golden brown. Immediately remove from heat and pour into small bowl. Cover; refrigerate 1 hour or until butter begins to solidify.
Beat browned butter with electric mixer on medium speed until fluffy. Gradually add powdered sugar alternately with milk, beating on low speed until blended. Stir in remaining 1 teaspoon vanilla. Frost cake. Sprinkle with remaining 1/2 cup toasted pecans. Store covered in refrigerator.