Apple-Oatmeal Crumble
10/16/2015, 1:46 a.m.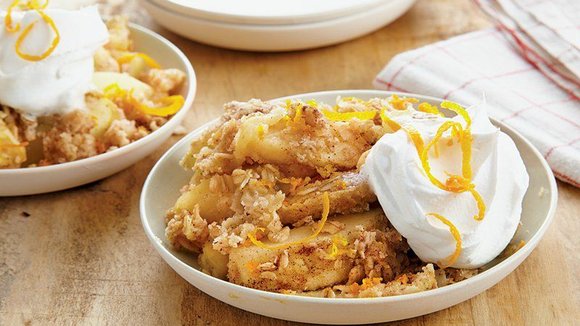 SERVINGS: 6
Ingredients
4 cups sliced peeled Granny Smith apples
1/2 teaspoon grated orange peel
1/3 cup fresh orange juice
1/3 cup old-fashioned oats
1/2 cup sugar
1/4 cup all-purpose flour
1/2 teaspoon ground cinnamon
1/4 teaspoon ground nutmeg
1/8 teaspoon salt
3 tablespoons cold butter or margarine
6 tablespoons frozen (thawed) whipped topping
Additional grated orange peel, if desired
Directions
Heat oven to 375°F. Arrange apple slices in ungreased 8-inch square (2-quart) glass baking dish. Sprinkle with 1/2 teaspoon orange peel and the orange juice.
In medium bowl, mix oats, sugar, flour, cinnamon, nutmeg and salt. Cut in butter, using pastry blender or fork, until mixture looks like coarse meal. Sprinkle over apples.
Bake 40 to 45 minutes or until apples are tender and topping is lightly browned. Spoon into dessert bowls; top each serving with 1 tablespoon whipped topping. Garnish with orange peel.