Barbecue Pork Pot Pie
10/20/2015, 10:46 p.m.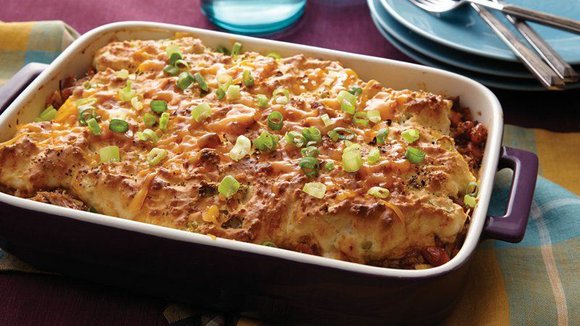 SERVINGS: 6
Ingredients
4 slices bacon
1 cup chopped red onion
2 cloves garlic, finely chopped
1 lb shredded smoked pork
1 can (15 to 16 oz) pinto beans, drained, rinsed
1 1/2 cups barbecue sauce
1 1/2 cups Original Bisquick™ mix
1 egg
2/3 cup milk
1 cup shredded sharp Cheddar cheese (4 oz)
2 tablespoons chopped green onions
Directions
Heat oven to 400°F. Spray 11x7-inch (2-quart) glass baking dish with cooking spray.
In 12-inch skillet, cook bacon until crisp; drain on paper towels. Crumble bacon; set aside. Cook red onion in bacon drippings over medium heat, stirring occasionally, until tender. Add garlic; cook 30 seconds. Stir in pork, beans, barbecue sauce and crumbled bacon. Spoon mixture into baking dish.
In medium bowl, stir together Bisquick mix, egg and milk until smooth. Fold in 1/2 cup of the cheese and the green onions. Pour over pork mixture.
Bake uncovered 15 minutes. Sprinkle with remaining 1/2 cup cheese; bake 5 minutes longer or until toothpick inserted in topping comes out clean and cheese is melted. Sprinkle with additional chopped green onions, if desired.