Boston Symphony Orchestra at Carnegie Hall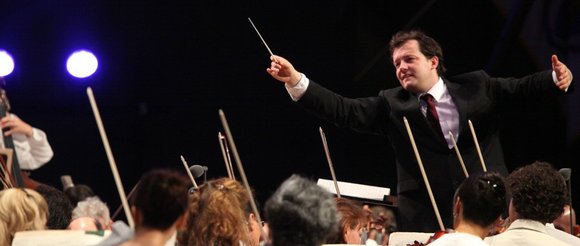 NEW YORK-There's obviously a very happy collaboration between Music Director Andris Nelsons and his Boston Symphony Orchestra. Their playing seemed ebullient, even in the sometimes dirgeful Divisions for Orchestra by modern composer Sebastian Currier, in a piece that was co-commissioned by the BSO and the Seattle Symphony, where it had its world premiere.
Now in his second season with the orchestra, he seems settled in. Nelsons allowed the small, fragmented themes of the piece to build into sheets of sound, which depicted the degradation of society following World War I. The piece gets its name from the way in which it was written; constantly dividing the time values of the notes to create a rolling effect. It was quite effective and the piece drew a rousing ovation . The composer was on hand to walk on stage to receive the audience's enthusiastic response.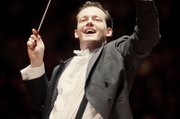 Next up was German pianist Lars Vogt, soloist in Beethoven's colorful Piano Concerto No. 3 in C Minor. Vogt was a stand-in for Paul Lewis who is recovering from recent surgery. No one who attended the performance could possibly have let cheated. Vogt dove into the piece with enthusiasm and careful attention to detail. There were variations in mood and key. throughout and Vogt made careful distinctions between them. There was a great deal of interplay between soloist and orchestra, with Nelsons careful to control the sound of the orchestra so that it melded perfectly with Vogt's bright, sure tone. At times, the two elements seemed as one. Vogt's handling of the slow movement, Largo, was especially moving, with Nelsons digging deep into the orchestra's tonal resources to find hues both deep and pastoral. The final Rondo: Allegro was a showpiece for Vogt's mastery of piano technique. His runs and trills were bright and bounced off the sounds of flutes and various woodwinds to create a sense of merry abandon.
There are two schools of thought on Brahms' Symphony No. 2. Some say it is the sunniest of his works, completed during the course of a lengthy working summer vacation in 1877. Others, including the composer himself, feel that its sunny veneer is simply a mask for the dark brooding that lies beneath its surface. Nelsons took no chances, mining both color and shifting moods of tempo and timbre to create a colorful musical portrait.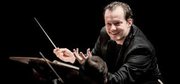 There were muted reflections from burnished cellos and broad declarations from the BSO's legendary brass section. Nelsons was a joy to watch, his elastic body achieving almost balletic postures to urge the orchestra on. His hands at times became dancing sprites to emphasize delicate phrasings, then shifting back to the baton to emphasize more precise elements. He built the final Allegro con spirit to a fever pitch. Again, the legendary brass led the charge. The audience responded with thunderous applause, urging an encore. After repeated curtain calls, Nelsons demurred. What could the orchestra possibly do after such a brilliant performance?
The following night brought a concert performance of Richard Strauss's Elektra with soprano Christine Goerke in the named title role.
Two Russian masterpieces dominate Thursday night's program with Prokofiev's Alexander Nevsky, excerpted from the score of Eisenstein's legendary film, and Rachmaninoff's Symphonic Dances. For information visit carnegie hall.org.