Blain's Farm & Fleet store coming to Romeoville
Brock A. Stein | 10/22/2015, 11:02 a.m. | Updated on 10/22/2015, 10:47 a.m.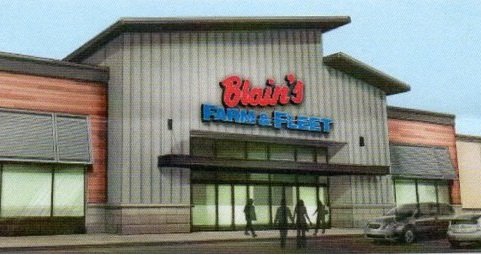 A Blain's Farm & Fleet store is to be built at the southeast corner of Airport and Weber roads, Romeoville officials announced Wednesday.
The proposed 122,000-square-foot store will be the first of its kind in Will County and part of a new generation design concept featuring home improvement products and landscaping supplies in addition to their traditional merchandise, Mayor John Noak said.
"A whole new way of approaching their product," Noak said. "It will be a great new addition to the village," said Noak.
The new business is expected to create more than 100 jobs.
The Romeoville store will be the 37th in the chain, which includes outlets throughout Wisconsin, Iowa and Illinois. The family-owned farm supply discount chain has more than 4,000 employees and its closest local outlet is in Montgomery on U.S. 30.
In addition to the new Blain's store, the 29-acre site will also include seven retail outlots, Noak said.
The village's planning and zoning committee will review an initial concept plant at its meeting next week.
Although no opening date has been announced, Noak said the owners have an "aggressive timeline" for construction.
In other business, the village board approved a special-use permit for the proposed Presence Health Senior Healing Arts Pavilion, which is to be built in the Romeoville Crossings Plaza near Sam's Club.
The village first reviewed plans for the 30,000-square-foot health care facility on Weber Road, south of Airport Road, in February. It will be the first in Romeoville to offer services for seniors, including blood testing, MRI, mammography, CT scans, and rehab and physical therapy services.
Site improvements to the 2.7-acre site will include sidewalks along Weber Road and a sidewalk path into the nearby Sam's Club shopping center, which will share some parking spaces with the medical campus.
Trustee Ken Griffin was glad to see the addition of the walk paths, especially along the busy Weber Road corridor.
"It's an accident waiting to happen," Griffin said.
A spokesperson for the developers said there are plans to break ground on the site this fall with an eye toward opening in late summer or early fall 2016.
Contact Brock A. Stein at brock@thetimesweekly.com or on Twitter at @BrockAStein.