Chicago Film Festival: Eisenstein in Guanajuato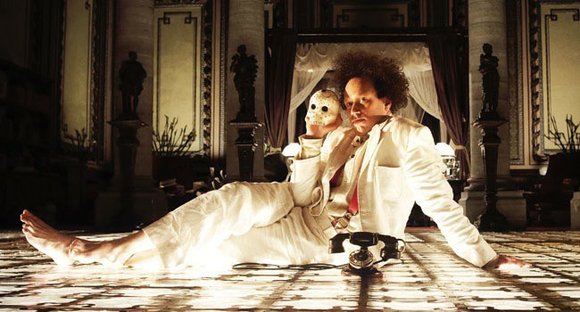 When Sergei Eisenstein (Elmer Back), the renowned Russian director (Battleship Potemkin) arrived in Mexico to film Que Viva Mexico (Thunder Over Mexico), he was 33 years old –the same age as Jesus Christ and Alexander the Great– world famous after only three pictures, manic, and a virgin. He arrived in time for the anniversary of the Russian Revolution and the Mexican Day of the Dead Festival. According to Peter Greenaway's exorbitantly lush film, when he left, having been mentored by his Mexican guide/fixer, Palomino Cadedo (Luis Alberti), a professor of comparative religion, he was no longer a virgin, was marginally less manic, and he had experienced personal vulnerability. All in all, a grand adventure: Now his pornographic drawings were based on experience rather than imagination, longing or other sources. Upton Sinclair withdrew his support of Que Viva Mexico and Eisenstein was not given access to the 285,000 feet of film he had shot. Sinclair and Sol Lesser edited the rushes and assembled the film that was eventually shown. Eisenstein eventually returned to Russia where he made Alexander Nevsky and Ivan the Terrible (1 & 2).
Eisenstein shows Tuesday and Wednesday, October 27 and 28. The film contains nudity and explicit sex.