Chicago Film Festival: Cannes winner tells heart-wrenching story of dedicated father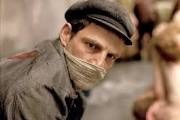 Saul Auslander is a Sonderkommando in Auschwitz, a prisoner/worker in one of the body disposal units that removes corpses ("pieces") from the gas chambers, and then handles deisposal from moving them from the ovens to disposing of their ashes.
Normally purged every 90 days, these men had generous rations of food and, especially, liquor to prepare them for their work.
The film covers a 36-hour period during which Saul finds a body in one of the gas chamber he believes is that of his son as he quietly tries to arrange for him to be buried in the ground instead of being incinerated.
At the same time, Saul's brigade is finalizing a rebellion to blow up the ovens.
Son of Saul shows the hellish order and chaos of Auschwitz, a complex about the size of San Francisco.
Director Laszlo Nemes' directorial debut won Grand Prix at the Cannes Film Festival and is Hungary's entry for best foreign film at the Academy Awards.